Ag Department sees need to support local food in Minnesota
Farmers markets and local food networks aren't new to Minnesota. But the movement gained momentum during the pandemic — and a partnership of more than 40 organizations hopes to capitalize on that grassroots growth.
"The local food movement coming out of the pandemic took root. There is a lot of movement in this now," said Kathy Zeman executive director of the Minnesota Farmers Market Association. "We've just reached 362 farmers markets. It's the highest number of farmers markets we've ever recorded in the state of Minnesota."
There has also been growth in online connections between farmers and consumers.
Sazzy Calhoun works in the film industry, so she was sidelined when COVID-19 shut down film production.
Grow the Future of Public Media
MPR News is supported by Members. Gifts from individuals power everything you find here. Make a gift of any amount today to become a Member!
In May of 2020, from her home in the north metro, she decided to start a Facebook group with the goal of connecting farmers and consumers.
"I started it just because of the need that I was seeing out in the world during COVID-19. I remember I sat there with my finger on the [keyboard] button, and I thought, 'Is this really silly? Am I going to be a group of one person?'"
But in a case of right place, right time, Farm Direct Minnesota took off and it's still growing nearly three years later. The group has about 75,000 members and still attracts about 900 new members a month.
"I think there is going to be sustainability as long as people want fresh food and see the value in that, and I don't think they're going to stop seeing that value," said Calhoun.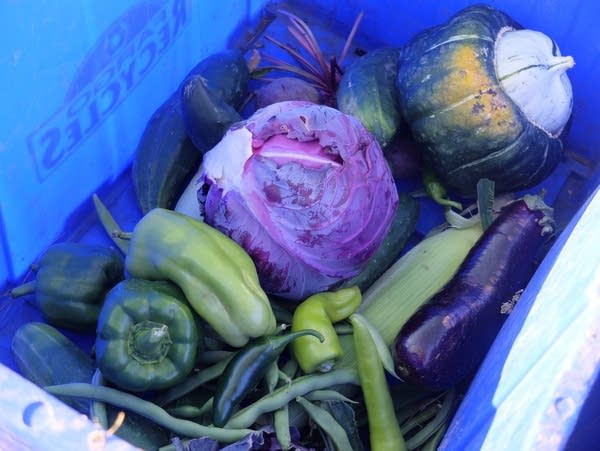 Christina Traeger was among the first farmers to join the Farm Direct Facebook group, offering a quarter or a half side of beef for sale.
"It brought us a connection, together with people who needed that quarter or half because their freezer was empty," she recalled.
Traeger had been selling directly to consumers for about a decade from her farm near Avon, Minn. She used her own Facebook page and a website to sell beef, pork, lamb and poultry.
The new Facebook group expanded her marketing reach, but also brought marketing challenges.
"You get the people who will come on there and say, 'Well, I can get this for $3.99 at Walmart,'" she said of the occasional online trolls.
"We take a lot of pride in what we produce as farmers. If somebody is saying things that are not very polite, you know you kind of get feeling bad, going 'What did I do wrong?'" she said.
"But on the flip side you get 20 people who are just super tickled. They saw my post on Farm Direct and they came to the market and came to the farm and picked stuff up and messaged me the next day and said that was the best meat they've ever had."
Traeger believes direct marketing is the future for her farm even though the challenges of running a farm and a direct marketing business can be overwhelming at times.
In the future, she and other small farmers might get more support.
A new initiative funded by a federal grant and led by the Minnesota Department of Agriculture and the University of Minnesota is taking a deeper look at the needs of small farmers and local food systems with the intention of creating a strategic plan for supporting local food systems.
"We've never collected data like this before, we're already really excited to be learning from it," said regional marketing specialist Kate Seybold.
For the past two years, the state ag department has been building relationships with small farmers and BIPOC communities to gather data and ideas about local food networks.
They've learned that many small farmers are not participating in the federal USDA Census of Agriculture, the benchmark for data about agriculture. That leaves a void in knowledge about local food production and networks.
"This data is really helpful to have, both from the producer side but then also our supply chain partners and consumer side," said Seybold. "We'll be using to kind of inform what that strategic action plan looks like."
While the agency is still developing specific action steps from the data, Seybold says it's clear there is enough interest and economic benefit to support a more strategic approach to local food systems in the state.
The work so far is exposing challenges.
"One of the things that really stands out is people see this type of work in many, many different places, a lot of people are involved in it, it's just that it's like we're all siloed," said University of Minnesota professor Hikaru Peterson.
"Even just to put this statewide cooperative partnership work forward, we realized that 'Oh, there's somebody else who's kind of doing something similar,' and you really have to collaborate."
The research also pointed out that many BIPOC groups don't trust institutions like the Department of Agriculture. So the group invested a lot of time in building relationships, said Seybold, and that effort needs to be ongoing.
Better data collection is also a critical need according to Peterson.
"There's just a lack of market transparency because of the lack of data infrastructure."
While commodity agriculture — corn and soybeans — has decades of data around production and market prices, the same data infrastructure does not exist for local food producers.
"And if there's a way of providing like a real-time market data in local and regional markets that these small and medium size farmers can use, I think it can really benefit and strengthen the support as well," said Peterson.
Another apparent area of agreement is the need for more investment in infrastructure such as community commercial kitchens for safe food production, community cold storage and community food hubs.
Those all require capital investments small farmers often can't access, but are needed to support the connection between farmer and consumer.
"And it doesn't matter whether you're in a sparsely populated township in the county in Greater Minnesota, or you are in a densely populated part of the Twin Cities where there's like one grocery store left," said Zeman.
State investment in that infrastructure is likely to be one of the recommendations when the final report on supporting local and regional food markets is completed later this year.