Walz moves to protect those seeking gender-affirming care
Gov. Tim Walz signed an executive order Wednesday ensuring people who seek and receive gender-affirming care in the state have protection under the law.
The move comes after seven states — Arkansas, Alabama, Florida, Mississippi, South Dakota, Tennessee and Utah — banned gender-affirming care for transgender youth and several more have taken up bills that would do the same or ban the care for transgender people of any age. 
"Minnesota ... is a welcoming, loving, neighborly state where you are welcome and will be free from discrimination or anything else that we're trying to see in some other states," Walz said, calling those leading bans in other states "bullies."
"In this state, hate has no home. In this state, love and acceptance is what we preach," he said.
Grow the Future of Public Media
MPR News is supported by Members. Gifts from individuals power everything you find here. Make a gift of any amount today to become a Member!
Physicians who provide the care say that starts with check-in conversations with transgender and gender-diverse young people about how they're feeling and developing, physically and mentally. After kids reach puberty, typically between ages 12 and 16, they can become eligible for reversible puberty-blocking hormones. 
After that, transgender or gender-diverse Minnesotans can seek gender-affirming surgical procedures.
State Rep. Leigh Finke, DFL-St. Paul, is the first openly transgender lawmaker to serve in the Minnesota Legislature. And she is carrying legislation that would make Minnesota a sanctuary state for those pursuing gender-affirming care.
That bill covers much of the executive order in that it would offer legal protection to patients who seek the care services in Minnesota and the physicians who provide it, even if other states have policies outlawing gender-affirming care.
But she said the state faces an emergency as other states ban the services that needed more urgent action.
"The situation is escalating too quickly against trans and gender-expansive people for us to not act," Finke said.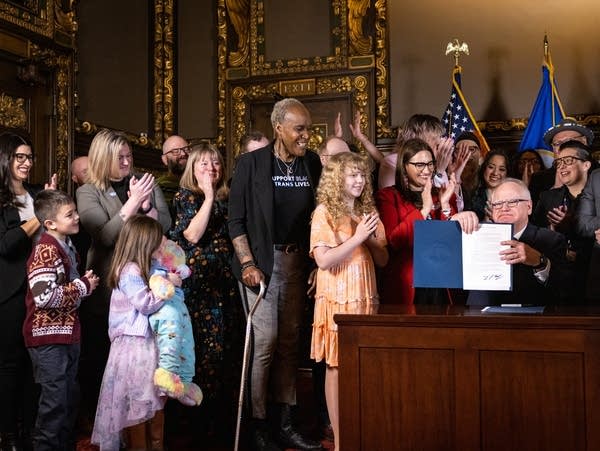 Opponents, including Republican lawmakers and some Christian organizations, have raised concerns about the impact of puberty-blocking hormones in the long run.
Doctors that provide the care services said that most gender-affirming care before age 18 is reversible. And young people can experience significant mental health impacts when they undergo puberty that doesn't align with their gender identity, they said.
Major medical associations support gender-affirming care and note it improves mental health outcomes in the short and long term.
"There are permanent irreversible changes caused by just living in the body you are born in," Dr. Kelsey Leonardsmith, interim medical director at Family Tree Clinic in Minneapolis, said. "To the kids, we see you, we trust you and we are here for you in Minnesota."
Leonardsmith said her staff has seen an increase in patients coming to Minnesota from other states in the last two years, as well as phone calls from families considering moving here after policy changes were made where they live.
"It's just horrifying that in 2023, people are being made refugees within the United States of America," Leonardsmith said.
Hao Nguyen, parent of 6-year-old transgender daughter Asher, said the executive order will help families like his worry less about polices that could prevent their kids from seeking care.
"There's nothing that I wouldn't do, that Gretchen and I wouldn't do to protect her and others like her," Nguyen said of his partner and daughter. "We are Minnesota. And that's who we need to be and today I'm so thankful to this administration, this governor, lieutenant governor and Rep. Finke for what we are."
Attorney General Keith Ellison said his office hadn't yet heard reports about gender-affirming care being denied in Minnesota. But he said he was prepared to defend access to services, if issues arise.
"If we get them, we will meet anyone, anywhere in court to defend the rights of transgender community," Ellison said. "This executive order has the force of law and we will enforce it."