'Support is huge': Twin Cities program pairs LGBTQ youth with mentors like them
When Eliza Gazett came out as transgender, she felt energized in a way she didn't expect.
"My initial plan was to question myself until I felt comfortable enough to be seen by the world," she said. "But once I was fully out, I didn't want to hide myself anymore."
She felt called to channel that energy into something positive, something that would help other trans people, specifically trans kids. 
"There's so much working against them right now that any amount of support is huge for them," said Gazett, who is 31 and lives in Roseville.
Grow the Future of Public Media
MPR News is supported by Members. Gifts from individuals power everything you find here. Make a gift of any amount today to become a Member!
Her therapist told her about a local program called QUEERSPACE collective where she could be a mentor to a young LGBTQ person. It seemed like a perfect fit.
The free program matches Twin Cities area LGBTQ youth with LGBTQ adults for connection and support through meetups two to three times per month. Many queer and trans kids have very few or no LGBTQ adults in their life, which can be isolating and discouraging. QUEERSPACE seeks to fill that gap.
What started out as an MBA project idea for founder and executive director Nicki Hangsleben turned into a full-fledged operation. QUEERSPACE collective turns two next month, and will soon expand its reach to St. Cloud.
"I was seeing a lot of statistics around mental health challenges that the LGBTQ youth in our community are facing," she said. "I started looking around to see what type of mentorship programs explicitly existed for our community and found that of 5,000 mentorship programs across the country, there were maybe five that focused on LGBTQ youth."
In an annual survey on LGBTQ youth mental health released in 2022, The Trevor Project found that 45 percent of LGBTQ youth had seriously considered attempting suicide in the past year. It also found that young LGBTQ people who have accepting community, affirming spaces or social support from family or friends reported significantly lower rates of attempting suicide in the last year. 
Advocates and experts say these struggles aren't inherent to being queer or trans — they're the effect of widespread mistreatment and stigma, compounded with anti-LGBTQ legislation passing in an increasing number of states, much of which is targeted at trans youth.
"Creating these networks of support reduces anxiety, depression and helps the young person feel like they have an outlet and a place to show up where they can be their authentic self," Hangsleben said. "Anytime we can show up to be ourselves and our whole selves… it feels good."
Gazett applied and got matched with 15-year old Lily Mouw, a ninth-grader at Mounds View High School in Arden Hills who is also trans. Over the course of a year the two have developed a tight friendship through weekly outings like visiting the zoo, playing board games or just chatting on walks in the park. 
"They can talk about queer identity and queer experiences and journeys, but for the most part, the mentees are just looking to hang out with a queer and trans adult who is living their life," said Soua Thao, who manages the Twin Cities mentoring program. "Just having an adult who they can ask questions to and see someone who's thriving and living — that they can someday become someone like them, too."
It turned out Gazett and Mouw had a lot in common — they both love nature, animals, conservation, video games and hockey. Gazett said she sees her younger self in Mouw.
Earlier this month the two cheered on the Minnesota Wild along with a group of mentor-mentee pairs at the team's Pride night. And Mouw has gotten to see Gazett on the ice as part of Team Trans, the only ice hockey team in Minnesota made up solely of transgender and nonbinary players.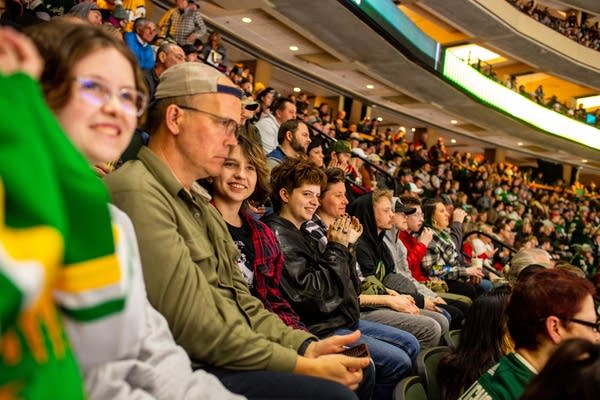 "Eliza has helped me through a lot," said Mouw. "Whenever I just need to talk, I usually talk to Eliza about it."
Mouw, like Gazett, came out as trans relatively recently and felt depressed and unsupported at her middle school. Then she found QUEERSPACE. Mouw said getting connected with Gazett turned things around for her. She now has an adult in her life who truly understands what she's going through and is available to talk and encourage her through it. 
"I feel more safe around Eliza than most people," said Mouw.
The benefits go both ways.
"There have been days where I haven't been feeling 100 percent myself when we've been hanging out," Gazett said. "It helps me find a best version of myself through helping her."
QUEERSPACE welcomes youth 12-17 and mentors over 25. The program has brought together 34 pairs so far — its longest standing duo has been meeting weekly for over a year and a half. Mentors complete an extensive application including an interview and are required to complete training and commit to the mentorship for a year. Demand is high. QUEERSPACE currently has a growing waitlist of LGBTQ kids hoping to be paired with mentors. 
Pairs are matched based on what the mentee is looking for in a mentor. Thao tries to find overlap in identity and interests and "then I go off of vibes and make sure that's right, too." The mentor and mentee don't need to share the same identities, but mentees often request mentors with similar backgrounds.
Thao said QUEERSPACE is looking for more mentors of color and trans mentors of color, as well as mentors who are into the same activities as the mentees — notably, indoorsy ones.
"We have a good group of mentors who love the outdoors, and a lot of our mentees love video games and love punk rock and thrifting and all that," Thao said. "I'm trying to find mentors who have those interests."
To serve those waiting for a mentor of their own, QUEERSPACE is starting to offer group mentoring, beginning this spring. For six weeks, 12 mentees and three to four mentors will take part in group activities, discussions, art projects and more. Thao compares the concept to a community class, except it will be free. 
QUEERSPACE requires mentees get permission from a parent or caregiver to be part of their programs because they're spending one-on-one time with an adult out in the community. That means LGBTQ youth without family support can't access the programming, and Thao said that those are the young people who probably need this type of support the most. 
The organization is looking for a building to rent in Minneapolis to open an LGBTQ youth center, where even queer and trans youth without that family support could drop-in. Hangsleben also wants QUEERSPACE to be a resource for families who might relocate to Minnesota seeking a better environment and community for their LGBTQ child.
"We hear from our mentors all the time, 'I wish I had this growing up,' or 'I want to support this person because I didn't have that growing up,'" said Thao.
That's the case for Gazett, who said it's one of the reasons she wanted to participate.
"Something like this wasn't around when I was young," said Gazett. "I think if I had that amount of visibility and support, I would have been more comfortable coming out at a younger age."
Resources for LGBTQ youth and families

This story is part of In Focus, an MPR News initiative exploring solutions to issues impacting Minnesotans.