Snow up north, rain for the Twin Cities overnight
Winter storm warnings for parts of northern Minnesota; milder by the weekend
Our latest drought-busting messy storm is moving across Minnesota overnight. Winter storm warnings remain in effect for much of northwestern and north-central Minnesota into Wednesday morning.
Including the cities of Crookston, East Grand Forks, Ada, Twin Valley, Halstad, Moorhead, Baudette, Red Lake, Redby, Ponemah, Thief River Falls, Red Lake Falls, Fosston, Fertile, McIntosh, Erskine, Bagley, Clearbrook, Bemidji, Mahnomen, Naytahwaush, Waubun, Alida, Ebro, Lake Itasca, Long Lost Lake, Lower Rice Lake, Roy Lake, Upper Rice Lake, Finley, Hope, Mayville, Hillsboro, Hatton, Portland, Valley City, Fargo, Lisbon, Enderlin, Gwinner, Milnor, Forman, Rutland, and Wahpeton

241 PM CDT Tue Mar 21 2023 ...WINTER STORM WARNING REMAINS IN EFFECT UNTIL 7 AM CDT WEDNESDAY...

* WHAT...Heavy snow expected. Total snow accumulations of 4 to 7 inches. Snowfall rates could reach 1 to 2 inches per hour. Higher totals are possible, but expected to be more isolated. Patchy blowing snow is possible.

* WHERE...Portions of north central, northwest and west central Minnesota and southeast North Dakota.

* WHEN...From 4 PM this afternoon to 7 AM CDT Wednesday. * IMPACTS...Travel could be very difficult. Areas of blowing snow could significantly reduce visibility. The hazardous conditions could impact the morning or evening commute.
Forecast model track
The forecast models are tracking this system through central and northeastern Minnesota into Wednesday. The National Oceanic and Atmospheric Administration's NAM 3 km model shows this quick-hitting system packing a band of heavy snowfall rates (dark blue) tracking across northern Minnesota overnight into Wednesday morning.
The forecast model loop below runs between 9 p.m. Tuesday and 7 a.m. Wednesday:
As you can see, the green areas favor pretty much all rain for the Twin Cities and southern Minnesota. There will be a little mixed ice (pink) in central Minnesota overnight. The Twin Cities is likely to pick up between 15 one-hundredths (.15) and one-quarter (.25) inch of rain overnight.
Grow the Future of Public Media
MPR's budget year comes to a close on June 30. Help us close the gap by becoming a Sustainer today. When you make a recurring monthly gift, your gift will be matched by the MPR Member Fund for a whole year!
Snowfall totals
Northern Minnesota will pick up significant snow with this system. Here's the view of northwestern Minnesota:
Here's a closer look at likely snowfall totals for northeastern Minnesota. The North Shore ridges will get blasted one more time in this seemingly relentless snow season.
Milder by the weekend
Our weather pattern will mellow as we move toward the upcoming weekend. Look for a mix of sun and clouds from Friday through Monday. Highs will reach well into the 40s across the Twin Cities, and we may see more 50s in southeastern Minnesota where snow cover is now fading.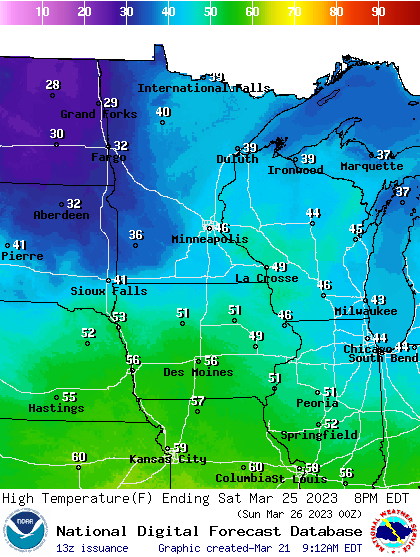 Stay tuned.