What to know about what spilled, burned in the Raymond train derailment
Updated: March 31, 12:45 p.m. | Posted: March 30, 4:16 p.m.
Just days after a Canadian Pacific train derailed in rural North Dakota, spilling hazardous materials, another train ran off the tracks in Minnesota, causing concerns about health and environmental impacts in the area. Here's what to know about the train crash. Have more questions? Submit them here. 
When and where was the derailment? 
It happened early Thursday in the small western Minnesota town of Raymond, about 90 miles west of the Twin Cities. The Kandiyohi County Sheriff's Office received a 911 call around 1 a.m., and emergency crews responded to the disaster, where several train cars were on fire.
Was anyone injured?
No injuries were reported.
How many train cars derailed? 
A statement from BNSF Railway said 22 train cars ran off the tracks.
Grow the Future of Public Media
MPR's budget year comes to a close on June 30. Help us close the gap by becoming a Sustainer today. When you make a recurring monthly gift, your gift will be matched by the MPR Member Fund for a whole year!
What were the train cars carrying?
Ethanol and corn syrup. 
Where is Raymond, Minn.? How big is it? 
Raymond is a town of about 900 people, near Willmar. It's around 90 miles west of the Twin Cities, about a two-hour drive.
How many people were evacuated? 
Authorities ordered homes within a half-mile of the derailment to be evacuated to a school in nearby Prinsburg. It's currently unknown exactly how many people were evacuated. The county sheriff estimated alerting some 250 homes. As of late Thursday morning, evacuated residents were allowed to return to their homes. 
What will it take to clean up the derailment site?
BNSF said it will take several days to clean the area, including burning off the ethanol. Gov. Tim Walz during a press briefing said the train cars would burn but not explode and that the frozen ground could minimize seepage from the leaked ethanol.
The fire will need to be put out with extinguishing foam rather than water, he said, adding that the foam would not contain toxic PFAS, or per- and polyfluorinated substances, known as "forever chemicals."
What is ethanol? What is it used for? 
Ethanol, also known as ethyl alcohol, is a pure form of alcohol that is clear and colorless. Made from fermenting plant materials, ethanol is in many products like fuel, paint, personal care and beauty products. Most U.S. gasoline contains ethanol to oxygenate the fuel and reduce air pollution. It's also a food additive used to enhance flavor of food extracts and distribute food coloring.
The Environmental Protection Agency said Thursday afternoon that the ethanol was denatured, meaning it was "ethanol containing gasoline to be used as a fuel additive."
Is ethanol toxic? Is it dangerous? What is the danger of an ethanol spill? 
Ethanol is highly flammable, so burns or injuries from fires or explosions are major safety concerns when a spill occurs.
Inhaling ethanol fumes after a crash isn't fatal but can be dangerous and cause headaches, difficulty breathing, irritation and coughing. Long-term inhalation can negatively impact a person's liver. Ethanol is toxic and can be deadly when ingested in large amounts. This is most commonly done with alcoholic beverages, known as alcohol poisoning. 
The U.S. Food and Drug Administration (FDA) has labeled ethanol a Generally Recognized as Safe (GRAS) substance, meaning it's safe to use in food products. 
"The corn syrup isn't really, obviously, a human health issue since people consume corn syrup, and frankly neither is ethanol since people drink ethanol, too," Mark Toso, a retired Minnesota Pollution Control Agency researcher, told MPR News after the spill. 
What are the environmental risks of an ethanol spill?
An ethanol spill can seriously impact local drinking water, aquatic systems and plant and animal life. Toso said that because ethanol is very biodegradable, if it gets into groundwater, it "basically turns into methane," or natural gas, which can seep into buildings. 
The Kandiyohi County Sheriff's Office said as of late Thursday morning that there was  "no impact to groundwater."
And if ethanol finds its way into surface water, it can also suck the oxygen out of water and kill aquatic life. Corn syrup, which also spilled out of the derailed train, has the same effect on water, he said. 
The EPA tweeted Thursday morning that a team arrived in Raymond by 6:30 a.m. to monitor air quality at the site and the surrounding area. 
As of 3 p.m. Thursday the EPA said it had not found any concerning level of particulate matter in the air, and volatile organic compounds "have been detected only immediately downwind of the cars in a non-populated area" and in "low levels below health concerns."
It is possible ethanol could or can explode the train cars? 
In general it is possible for explosions to occur during situations like this, but Gov. Walz said in Thursday morning's press briefing that the derailed cars were a "state-of-the-art" quality that wouldn't explode while burning.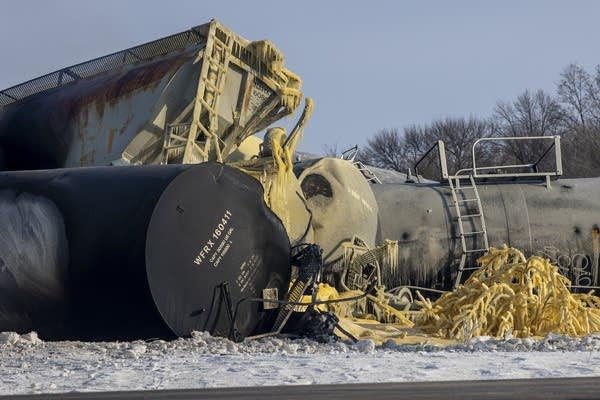 What has happened with other train derailments involving ethanol in the past? 
These are just a few past examples:
In 2013, 11 CSX rail cars tipped in Port of Tampa, Fla., causing thousands of gallons of ethanol to leak. 
In 2015, a BNSF train derailed near the western Wisconsin town of Alma. Of the 25 derailed cars, one released an estimated 18,000 gallons of ethanol, and four more released an estimated 5 to 500 gallons each. 
In 2020, a rock slide off a mountain in eastern Kentucky caused a CSX train derailment of five cars, four of which contained ethanol that leaked into a local river.
What spilled in East Palestine, Ohio, and how is that different from ethanol?
The dozens of Norfolk Southern train cars that derailed last month in Ohio contained a variety of products. 
Eleven of the derailed cars were classified as carrying hazardous materials – defined as cargo that could pose any kind of danger "including flammables, combustibles or environmental risks." Five of those cars were carrying vinyl chloride.
Vinyl chloride, used to make the polyvinyl chloride hard plastic resin used in a variety of plastic products, is associated with increased risk of liver cancer and other cancers, according to the federal government's National Cancer Institute. 
Crews deliberately released and burned the vinyl chloride, sending toxic gas phosgene, hydrogen chloride and plumes of black smoke into the air.
Some residents complained of smelling chlorine and smoke in the air and having headaches after the derailment. There have also been reports of burning sensations in the eyes, animals becoming ill and a strong odor lingering in the town.
Officials said some derailed cars also carried combustible liquids, butyl acrylate and residue of benzene from previous shipments, as well as nonhazardous materials such as wheat, plastic pellets, malt liquors and lube oil.
The Ohio Department of Natural Resources estimated the spill affected more than seven miles of streams and killed some 3,500 fish, mostly small ones such as minnows and darters.
Local officials have insisted that the air is safe to breathe and the water is safe to drink in East Palestine.
The Associated Press contributed to this report.