'A phenomenon': A new book features contemporary Latin artists in Minnesota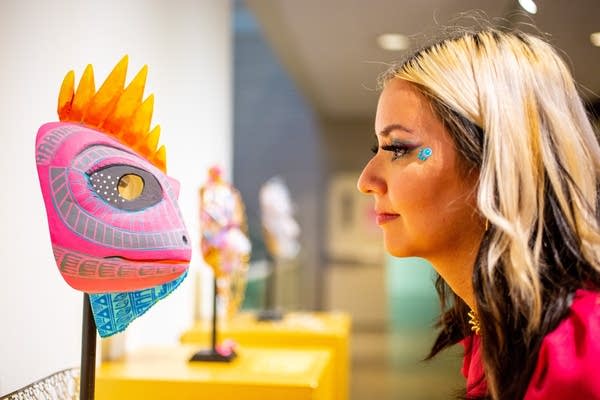 Just off East Lake Street in Minneapolis, William "Billy" Gustavo Franklin squints at the sun reflecting off the Mosaic of the Americas.
The tiled mural is two stories high. Hands reach out, faces pulsate, splintering in color like light shooting through a prism. At the top, a condor and an eagle face each other, representing South and North America. 
The imagery comes from a prophecy, he says. 
"A prophecy that tells how the human race went around the world," Franklin says. "But it's also a prophecy that one day we reunite." 
Grow the Future of Public Media
MPR News is supported by Members. Gifts from individuals power everything you find here. Make a gift of any amount today to become a Member!
The mural was completed in 2001, just days after the September 11 terrorist attack. It was commissioned by the building's tenants at the time, the Resource Center of the Americas. 
More than 200 people created public art under the leadership of local Mexican artist Gustavo Lira García, as well as visiting Mexican muralist José Luis Soto and local artists Lori Greene and Deborah Ramos.
The mural was one of the works of art that touched Franklin in his early years of living in Minneapolis, after moving from his home of Caracas, Venezuela, in the early 1990s.  
"It feels really like some sort of a new realism, a new statement, a hint at contemporary art," Franklin says. "I wanted this book to tell our history, more of contemporary art."
He's referring to the new book he edited and recently published, "Latin Art in Minnesota: Conversations and What's Next." The hardcover art tome features in-depth interviews with 12 Minnesota artists who have roots in Central and South America, from Mexico to Chile: 
Latin Art in Minnesota gallery
12 of 12
1 of 12
2 of 12
The book is richly illustrated with their art. But perhaps most important are the intimate Q&As — conducted by other Latino, artists, arts leaders and activists — where each artist shares their path to Minnesota and to a career in the arts.  
Gutierrez-Bolger talks about fleeing Cuba with her family when she was five. Padilla tells how he was born in Iowa, raised in Minnesota and traveled to Mexico, the home of his grandfather, for the first time when he was 19. 
The interviews also delve into identity, immigration and how to preserve traditions. 
---
Franklin and a handful of the artists — Fitch, Gutierrez-Bolger, Sierralta, Garza and Cuellar — gathered to discuss the book at UNO Branding, the creative agency of Luis Fitch in Minneapolis; Fitch, in fact, designed the book. They begin by talking about the term "Latin," and their struggles finding themselves in such a broad identity. 
"What does it mean to be Latin? You know, honestly, I still don't know what Latin is. I know what Chilean means," Sierralta said.
"Do we want to be identified strictly Latino artists? Are we just fine artists? I kind of go back and forth" Gutierrez-Bolger said. "There's lot of questions around it, too, in how we identify amongst ourselves and to the outside world. There's a lot of complexity, and I think our stories are really pretty different." 
Cuellar said when he was living and creating art in Venezuela, he never thought about identity. 
"I was focused on my work, more than being representative of a culture," he said. The art he makes "is influenced by stuff from the native people of Venezuela, and Asian cultures and traditional European cultures." 
"You can remove the word 'Latino' out of the book, and still, it's a really good book," Fitch added. The group nodded.
"But I think we needed to label it," Fitch continued. "To separate us and for people pay attention to who we are, because without that little label of 'Latin,' we're just another group." 
Franklin said that with the book he tried to capture what he calls a phenomenon, a confluence of talent in Minnesota from the mid-1990s to today.   
"Any of the work produced by the 12 artists in the book is ready to hit the major museums," Franklin said. "I think there's something major." 
"Billy has captured us in this timeframe and we're all together," Gutierrez-Bolger said. "There's something really very special about it, and very magical."  
Alondra Marisol Garza moved from the Mexico-U.S. border a few years ago. She said people in the Latino community here don't feel welcome going to art exhibitions or institutions because they feel exclusive, so this book could be the first step in bridging that gap 
"It doesn't always have to be white wall galleries. Art is everywhere," Garza said. "That's also the reason a lot of Latinos don't want to go to shows, because they think they're fancy,"  
"The issue is that our community that comes here as immigrants, we're scared of these institutions," Fitch added. A book can have a deeper reach into Minnesota's Latino community, much of which is in rural Minnesota. 
"The importance of coming together in a book is because we don't have a particular space that our community can go and see," Fitch said. He recounted how some of the most formative experiences in his early life were experiencing Latin art in museums. 
"The first time my mom took me to a museum, it was in San Diego, and I was five years old, and I saw a Picasso show and I knew for the rest of my life, that's what I wanted to do," Fitch said. "I hope this book does that for a little kid in East Lake Street; that he could go to a museum and see that any of these 12 people represent their culture and their beliefs and their way of living." 
Fitch said he and other leaders in the Latino community are organizing to someday create a Latin museum. It must be on East Lake Street, he noted, at the heart of the community. 
---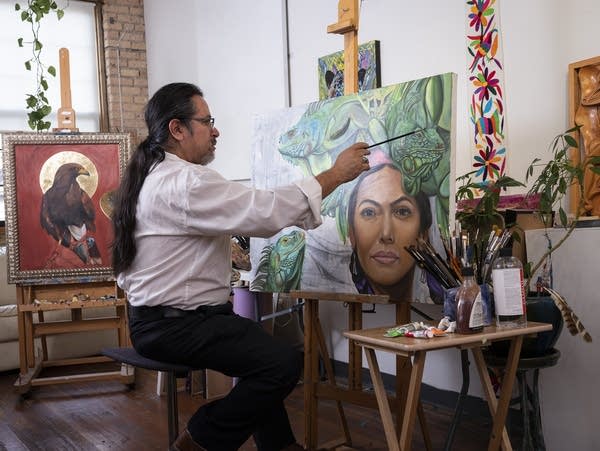 At the "Mosaic of the Americas," Franklin says he hopes the book's reach ripples out, too. 
"Hopefully with this book, somebody from the Hmong community or the Somali community or beyond can grasp it and say, 'Wow, this is art. Let's check it out,'" he says. "It's called 'Latin Art in Minnesota,' and it is about the Latino community, but it goes beyond."