Beyond the singular experience, La.dy.like asks what it means to be unapologetically femme 
For artist Andrea Bagdon, it's all about doilies — the white, often circular and flower-themed cloth and paper mats. Sometimes they get shoved in the back of kitchen hutches or passed down as family memorabilia. 
Or in Bagdon's case, become part of an art exhibit. 
The doilies are from her grandmothers, which will reflect news headlines taken from articles about feminist topics such as the current state of abortion and LGTBQ rights using cyanotype printing method. They will join 3-D printed teacups to represent conversations fostered between tea drinking and women — a comment on the social architecture of Bagdon's life. 
Fellow St. Paul artist Spencer Gillespie prefers the foam route. Gillespie paints on XPS construction foam, referencing an older tradition of abstract expressionism from the 1950s and 60s. 
Grow the Future of Public Media
MPR News is supported by Members. Gifts from individuals power everything you find here. Make a gift of any amount today to become a Member!
Gillespie says at the time, there was a theme of women artists rebelling against what the art world was talking about: the male genius and ego. 
Almost one year after their St. Paul debut, Bagdon and Gillespie are joining eight other Twin Cities artists to explore what it means to be femme in the La.dy.like. Experimental Art Project: "Unapologetically Femme." 
In a world of expanding gender definitions, Bagdon says it is important to understand that femininity isn't a static identity anymore.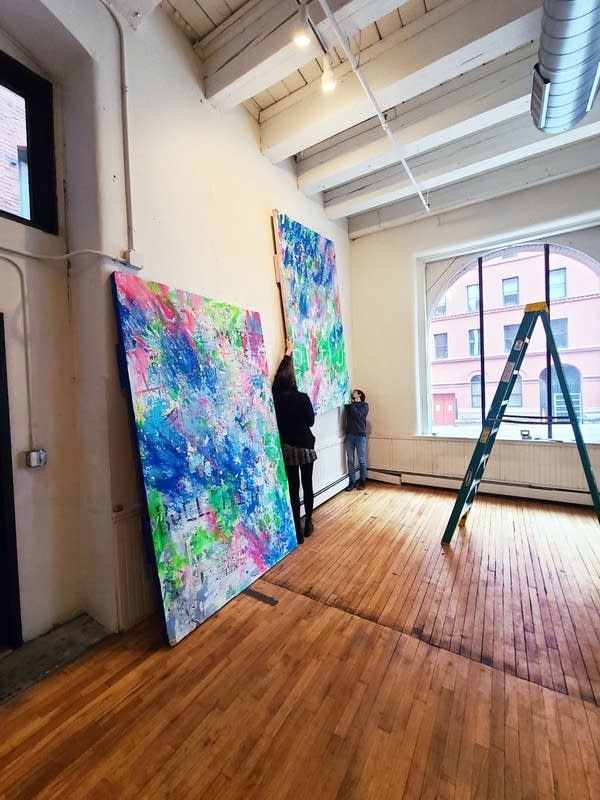 "Every voice in the exhibition is different, which is kind of the point. There's a lot of folks out there trying to define what femme means right now. Everyone has their own definition, and, for artists, to give space to a show with these definitions, these interpretations … it gives it more power, you can't pinpoint it," she said. 
Bagdon and Gillespie are the co-founders of La.dy.like but in this exhibit, they're taking a back seat. Enter: Bo Young An, an artist, designer and sole curator of "Unapologetically Femme." 
An says while curating, it was important to her that the group of artists featured be diverse in identity, medium and their own definition of "femme," whatever that may contain.
It's hard to ignore the impact that Minnesota politics could possibly have on the show. From abortion bills, the trans refuge act, banning conversion therapy and funding menstrual products in K-12 schools, Gillespie says it's all "at the forefront of their mind" while creating. 
The work is inherently political, but not on purpose. Bagdon says it's simply because being femme, and being queer, is political in itself. 
"We're already politicized: If you are a female, if you are queer … but the show itself, that isn't the objective. It is to show everyone's lived experience, whether it's their reaction to femininity or how they interpret femininity." 
An is Korean and grew up in Thailand. She says that her personal experiences in the Asian community have influenced how she interacts with feminism. 
"It's not a singular experience. It has to do with the cultural background you're from, even your geographical location, West Coast, Midwest, South, East Coast … how I talk about femininity is based on my roles and how that intersects with identity, my Korean-ness, that I grew up in Thailand... there are so many different ways of being femme, that's why I think it is interesting."
"Unapologetically Femme" runs from April 28 to May 28 at the Northern Warehouse Artist Lofts, 308 Prince Street, Suite 100, St. Paul. The opening reception is April 28, 6 to 10 p.m.