After recent mosque attacks, religious and city leaders discuss options
Updated: 12:30 p.m.
At Masjid Al Rahma in Minneapolis Tuesday night, Mohamed Ibrahim with the Council on American-Islamic Relations in Minnesota had a clear message.
"When people come to places of worship, especially mosques, they come to find tranquility, peace of mind, cleanse their hearts and minds from daily problems outside, but in the last two years that was not the case," he said.
Mosque leaders and law enforcement officials at Tuesday's forum, hosted by Sahan Journal and MPR News, discussed the alarming series of arson and vandalism at Minnesota mosques and ways to protect worshippers from such attacks.
The Oromo American Tawhid Islamic Center in St. Paul was set on fire May 17, making it the fifth attack on a Minnesota mosque in 2023.
Grow the Future of Public Media
MPR News is supported by Members. Gifts from individuals power everything you find here. Make a gift of any amount today to become a Member!
A Plymouth man was charged with allegedly setting fires at two Minneapolis mosques in April.
A 45 year-old-woman is facing a felony damage to property charge for an incident which occurred on May 12. According to the charges, Sherrice Williams used a large rock to smash a window at the front of the As-Sunnah Islamic Center in St. Paul.
Minneapolis Police Chief Brian O'Hara, University of Minnesota Racial Justice Law Clinic Director Liliana Zaragoza and U.S. Attorney for Minnesota Andy Luger were among the panelists Tuesday.
Luger pledged his office's continued solidarity with faith leaders and victims of hate-inspired violence. And he announced that resources under a Department of Justice program to combat hate crimes will soon be available to congregations and groups in Minnesota.
Last fall, the department unveiled an initiative called "United Against Hate." It seeks to build stronger connections between community groups and federal and local law enforcement agencies. Luger told the group what kind of resources are available through the program.
"When I say resources, it's expertise, it's training — it's the kind of thing that's already going on here through a collaboration with houses of worship," Luger said.
The United Against Hate program has already been introduced in more than a dozen states across the country.
O'Hara, who has spent time visiting with mosque leaders since becoming chief, said fear has no place in any house of worship.
"It is truly an attack on our entire community and it is terrifying for people," he said.
According to the FBI, hate crimes in the United States increased nearly 12 percent in 2021 compared to 2020.
Of the nearly 1,600 reported hate crimes related to religion, almost 10 percent were anti-Islamic, according to data from the bureau.
7 of 7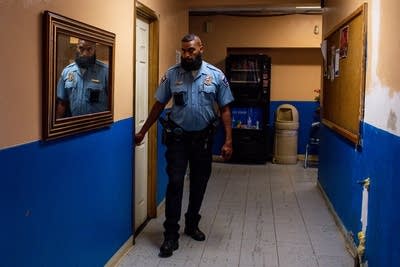 1 of 7
2 of 7
In Minnesota, incidents have some members of the Muslim community on edge. But Fowsiya Rage, who attends Masjid al Rahma, said she won't let fear be bigger than her faith.
"Whoever is doing this, I'm letting them know that they're not going to make us afraid to stay away from the masjid," she said. "I want to make sure they know that no matter what they try to do, we'll still come."
City and mosque leaders said they're working on preventing attacks from happening, including partnership opportunities and more outreach from mosques to the community.
While federal funds are available for mosques to pay for security equipment, those grants are competitive and hard to come by. And some have applied but have not heard back. Most rely on community donations.