Feds slam Minneapolis Police Department over years of racism, excessive force
Updated June 17, 9:20 a.m. | Posted June 16, 10 a.m.
A two-year federal probe of the Minneapolis Police Department finds the police racially discriminate against Black and Native people, use excessive force and "unjustified deadly force" in policing and violate the rights of peaceful protesters.
Collectively, the MPD's culture and practices created the "systemic problems" that made possible the police killing of George Floyd, the newly released U.S. Justice Department report concludes.
The report rips the MPD's accountability systems, training, supervision, and officer wellness programs, saying they "contribute to the violations of the Constitution and federal law."
U.S. Attorney General Merrick Garland and other top Justice Department officials detailed their investigation and laid out next steps during a Friday morning briefing in Minneapolis. "George Floyd should be alive today," Garland said in his opening remarks.
Grow the Future of Public Media
MPR News is supported by Members. Gifts from individuals power everything you find here. Make a gift of any amount today to become a Member!
He called the Justice Department's findings "heartbreaking."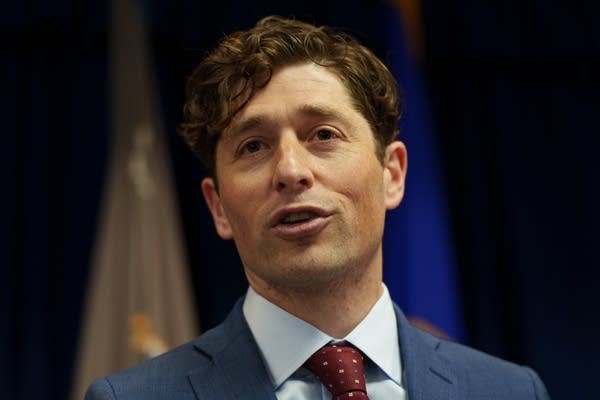 'Abusive' behavior, discrimination documented
The probe began in April 2021 following the trial and conviction of ex-officer Derek Chauvin for Floyd's murder. Federal authorities have been examining whether the Minneapolis Police Department routinely used excessive force and violated people's constitutional rights.
Among its findings Friday, the Justice Department wrote:
The MPD "used dangerous techniques and weapons against people who committed at most a petty offense and sometimes no offense at all."

Officers punished people who made them angry.

Police patrolled neighborhoods differently "based on their racial composition and discriminated based on race when searching, handcuffing or using force against people during stops."
The probe also documents a police culture that made it difficult to discipline officers. It outlines how Minneapolis police leadership wrongly dismissed or misclassified complaints from the public.
Watch: U.S. Attorney General Merrick Garland speaks on the Justice Department findings of a two-year investigation of the Minneapolis Police Department:
In cases where serious misconduct occurred, they diverted the officers into nonpublic "coaching" sessions, that may not have happened.
Kristen Clarke, assistant attorney general for civil rights, outlined data showing that MPD stops, arrests and uses force against Black and Native people far more often than white people in the same circumstances, adding that MPD officers pulled back significantly on reporting demographic data in stops after Floyd's killing.
The Justice Department, she added, found that officers' use of Tasers is often random and that officers have used them against kids and people with mental illness, "including against people who committed minor offenses or none at all."
The Justice Department also said it found "numerous examples of MPD officers unnecessarily escalating situations and in many cases using avoidable force against people with behavioral health disabilities."
One dispatcher told investigators they are trained to "oversend" police, while another "feared personal liability for improperly dispatching [behavioral crisis response teams]." Investigators also found "problematic" training materials, including one with a slide stating that a child with the condition "will power struggle with you to the death."
Officials say the report's conclusions of discriminatory and abusive behavior are grounded in hundreds of accounts and interviews of city residents as well as police department data, video, incident reports and ride-alongs with officers.
The report acknowledges the challenges of police work and the toll it's taken on many officers.
It recommends that Minneapolis revamp its use-of-force policies, training and reporting. It also recommends the department collect more data about racial disparities in stops, searches and arrests and beef up its accountability systems, including requiring officers to report misconduct and improving the review process for complaints.
The union representing Minneapolis police officers released a statement late in the day Friday that concluded, "[I]ssues identified in this report can't be shouldered by the police officers alone. It will require the elected officials to provide the support and resources to do the work. It will require immense work in the community to build trust and it will require department leadership to be leaders."
'Trying to change culture'
Garland told reporters Friday that the MPD, the city and the Justice Department have agreed to work together to negotiate a consent decree intended to address the problems identified by the federal authorities that will include an "independent monitor."
A consent decree — which can include requirements like officer training, increased transparency about police actions or revamped processes for officer accountability — would not be lifted until the court is satisfied the city has made progress on the terms of the agreement. 
Minneapolis Police Chief Brian O'Hara, who took over the force in 2022 and was hired in part because of his experience handling a consent decree in Newark, N.J., said Friday that "this is truly about trying to change culture and trying to build bridges" and not simply checking off boxes on reform measures.
The department must have a culture of officers intentionally trying to earn people's trust, he added.
O'Hara later told MPR News that some in the department were initially frustrated by what they heard from Garland given that officers who'd been connected to some of the specific incidents of abuse were no longer with the department.
The report, he added, will help drive the change but that it will also require funding, technology and better training.
The findings align with what people of color in Minneapolis have been saying for generations, said Mayor Jacob Frey, who vowed to use the Justice Department report and the subsequent federal involvement to improve policing.
"The truth is we still have a lot of work to do," he said. "We needed this help."
Michelle Gross with Communities United Against Police Brutality who helped the DOJ connect with residents — especially those with a mental illness and disability — about their experiences with the MPD called the report "robust" on problems that "have gone on for decades." But she said having the community participate will make a difference.
"We are grateful that the Department of Justice has finally decided to intervene. This intervention was long overdue. And we are hopeful we are doing our best to put our trust in them, that they will hold Minneapolis elected officials accountable, because they have not been accountable to the people," said civil rights advocate and attorney Nekima Levy Armstrong.
In a statement Friday, Police Officers Federation of Minneapolis President Sgt. Sherral Schmidt noted the report's recognition of the difficult work of law enforcement and the wide disparities economically in the city. But Schmidt criticized the report's findings for relying too much on anecdotal incidents that do not tell the whole story of the department.
"In some instances, the report presents incidents in a misleading light such as repeating allegations that were rejected by neutral arbitrators. Rather than engage in a point by point analysis, suffice to say that it is hard to imagine that a two-year long investigation of thousands of actions by the people of ANY organization the size of MPD would not uncover several mistakes of varying levels of severity," Schmidt said in the statement.
The federal probe had a broader scope than a separate state investigation by the Minnesota Department of Human Rights, which found Minneapolis officers discriminated against people of color.
It led to a court-enforced settlement agreement in March that, among its provisions, bans officers from searching people because they say they smelled marijuana. 
Read the full U.S. Justice Department report: