Minneapolis mayor says police will look the other way on some psychedelic drugs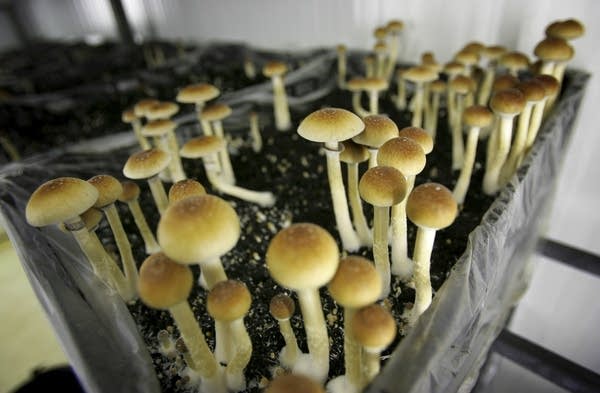 Updated: 6:03 p.m.
Minneapolis Mayor Jacob Frey on Friday signed an executive order directing the city's police department and other agencies to deprioritize investigating or arresting people for using certain psychoactive plants, such as psilocybin mushrooms.
The executive order states that it will now be the city's "lowest law enforcement priority" to investigate or arrest people "for planting, cultivating, purchasing, transporting, distributing, engaging in practices with, or possessing Entheogenic Plants or plant compounds."
Entheogenic, or psychoactive, plants covered by the executive order include psilocybin mushrooms, ayahuasca tea, mescaline and iboga.
"Entheogenic plants can indeed have a positive impact, especially for people that are dealing with severe depression or anxiety or post traumatic stress disorder," Frey told MPR News on Friday. "I'm not going to ignore the science – we shouldn't be just removing what could be an important tool from the toolkit where we're seeing these deaths of despair around the country."
Grow the Future of Public Media
MPR News is supported by Members. Gifts from individuals power everything you find here. Make a gift of any amount today to become a Member!
"We're not decriminalizing, we're not making legal for recreational use — that would be subject to some form of statute or law," Frey said. He said deprioritizing psychoactive plants allows police to shift resources to more important issues like violent crime and the fentanyl crisis.
According to data from the Minnesota Bureau of Criminal Apprehension, the city made only three arrests related to hallucinogens last year. Frey confirmed that the police department has already made a practice of deprioritizing investigations and arrests for use of psychoactive plants, but the executive order formalizes that decision.
The city of Minneapolis said other cities — including Denver, Detroit, San Francisco and Seattle — as well as the state of Oregon have already taken similar actions.
The city said the executive order "does not legalize any unlawful activities related to entheogenic plants."
"I recognize that many of our community members see benefits in using these natural substances for health or religious purposes, and with this executive order, Mayor Frey has directed the Minneapolis Police Department to join agencies nationwide in continuing to deemphasize law enforcement activities related to use of entheogenic plants," said Minneapolis Police Chief Brian O'Hara in the city news release. "I stand with the mayor in support of this action and will ensure the MPD continues to maintain the safety of all residents and community members."
Therapist: 'We have a long way to go'
Bryan Ebert is a therapist who focuses on psychedelic-assisted psychotherapy. He is also the co-founder of DecriMN, an organization focused on decriminalizing natural psychedelics. Ebert has been pushing for the initiative in Minneapolis since 2019.
"It is incremental change. We have a long way to go," he told MPR News after the city's announcement. "We're interested in expanding to other cities like St. Paul, and we are interested in working on proper decriminalization at the state level. And we're hoping to work with some representatives to introduce something this next legislative session — but we're happy, and we're celebrating."
On the statewide level, a Psychedelic Medicine Task Force was created in the last legislative session to advise the legislature on possible legalization.
"There has been, definitely, a lot of clinical support, mostly in research studies for the use of psychedelics in treating addiction," Ebert said. "One of the more interesting ones is iboga, which contains ibogaine, and that is one of the compounds or plants that has been shown to interrupt opioid withdrawal. So that's extremely promising."
Peyote excluded from order
Notably excluded from the order was peyote, a cactus that contains the psychedelic chemical mescaline.
The National Council of Native American Churches requested the exclusion. Under federal law, members of Native American tribes are allowed to use peyote — a plant they view as sacred — for traditional ceremonial use.
Nationwide, advocates of the practice have asked for peyote to be excluded in decriminalization efforts. Some worry about the diminishing populations of the plant, especially as the movement to decriminalize psychedelic plants grows.
"It feels very validating and comforting to know that Mayor Frey listened and really heard what we were trying to say," said Christine Diindiisi McCleave, a board member of the Psychedelic Society of Minnesota and a tribal citizen of the Turtle Mountain Ojibwe nation.
"You know, there have been a lot of other cities and states who have decriminalized around the country and not all of them have been as respectful of peyote's special circumstances," she said.
She also says people planning to use natural psychedelics should do their research on ecosystems and which ones are tied to indigenous practices.
Ask MPR News