The State Fair hopes this was your last year throwing stuff off the SkyGlider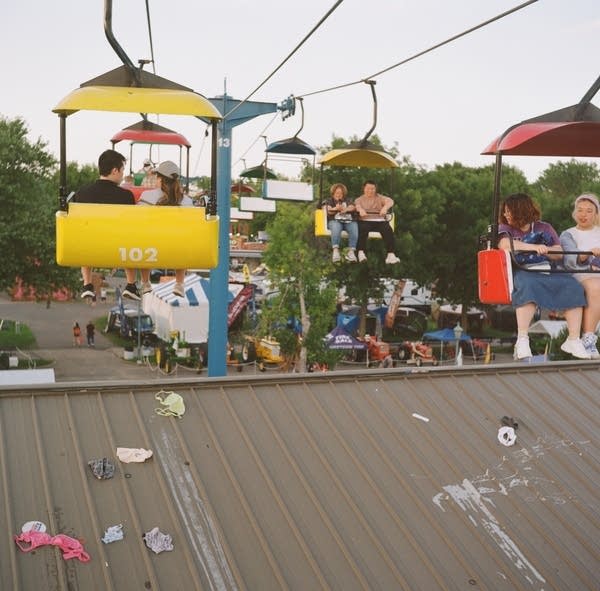 For people riding the SkyGlider during this year's Minnesota State Fair, there's a good chance many riders saw a familiar yet surprising sight — a colorful array of bras, underwear, countless scrunchies, stuffed animals and even a VHS tape decorating the roof of the Kemps Little Farm Hands exhibit.
No one seems to know how the tradition began, but year after year, the roof ends up being a display the public curates for the fair.
The "Great Throw Down" tradition at the fair has been occurring since 2001, when the SkyGlider first opened, according to a 2016 story from the Pioneer Press. Over the years, media outlets have reported on dropped items including Sweet Martha's Cookies, a toilet plunger, stuffed animals and even a prosthetic leg. 
MPR News rode one of the first SkyGlider chairs on day one of the fair and documented a clear roof. An hour and a half later, there was one key lime bra, one sunny yellow pair of underwear, and one black chunky sandal.
Grow the Future of Public Media
MPR News is supported by Members. Gifts from individuals power everything you find here. Make a gift of any amount today to become a Member!
The Little Farm Hands staff usually waits until the fair ends to clear the roof of the items, according to media stories in prior years. But this year was different — the State Fair cleaned it off in the middle of the fair. 
Across social media, fairgoers noted that the roof seemed more active with the unmentionables. Commenters on social media reacted to photos of the roof by saying this year by far had the most items on the roof. 
On TikTok, a woman posted a viral video of her trying to have a "wholesome day" with her dad and shielding his eyes so he wouldn't see the bras and underwear on the roof.
But the State Fair's policies regarding the SkyGlider and the potpourri of items on the Little Farm Hand's roof are quite firm.
"The Minnesota State Fair expects riders on the SkyGlider to follow the safety rules which include securing all items and not throwing or dropping anything from the ride," a State Fair spokesperson told MPR News on Wednesday.
Next year, why not ditch the ditching and blow bubbles while on the ride?