Relative of man who died on Lake Superior reacts to news of shipwreck's discovery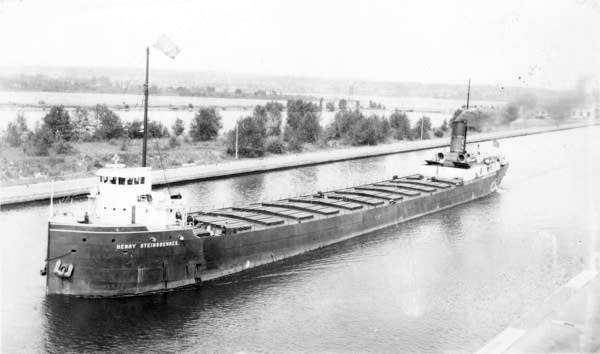 Madge Alberts was just getting up Wednesday morning in Pine Island, Minn., when her husband called to her.
"Come to the computer, you have to read this," she recalled him saying. "He dragged me to the computer and I was like, 'Really, you're going to make me read a story about politics before I even have coffee?' And he laughed and said, 'Just read it.'"
"Well, I got one paragraph into it, and got teary-eyed and goosebumps from head to foot."
The article on the MPR News website was about the recent discovery of the wreck of the freighter Henry Steinbrenner in Lake Superior. The ship sank in a storm in 1953 with the loss of 17 of its 31 crew members — including Alberts' great-uncle, Earl Hemmingson.
Grow the Future of Public Media
MPR News is supported by Members. Gifts from individuals power everything you find here. Make a gift of any amount today to become a Member!
Alberts was 5 when the ship sank. She spoke Friday with MPR News host Cathy Wurzer on Morning Edition.
"I'm getting goosebumps again with you talking about it," Alberts said.
"Two-thirds of the way down the story there was a clip from the Duluth Herald that said three Duluth men were killed in the shipwreck, and Earl was listed. And that's the first time I had seen his name in any sort of a newspaper clip of it," she said, recalling reading the article.
"It just made it real for me. It's something that I've been sort of obsessed with all my life … about what happened to him."
After reading the story and hearing an interview with Ken Merryman — who along with Jerry Eliason located the wreck of Steinbrenner — Alberts reached out to MPR.
She never met her great-uncle, but remembers when the ship sank.
"The memory I have was sitting with my mom and dad … and she was crying, and they were talking about it," recalled Alberts, who grew up in Duluth. "And my dad said to me, 'Your Grandma Dyb's brother died in a shipwreck yesterday.' And that was pretty much all that was said."
Her interest in pursuing more information about her uncle was sparked in part by the sinking of the Edmund Fitzgerald in 1975.
"I've always had this need to find out whether he really was there," she said of the sinking of the Steinbrenner.
Hemmingson's body was found after the wreck, and he was buried in Mason, Wis.
Hearing that the wreck was found "closes the circle," she said. "It's a feeling that I can relax and — not think about this anymore so much."
The full conversation can be found above.