Halloween megastorm still the 'storm of record' 27 years later
It's hard to believe it's been 27 years since the infamous 1991 Halloween megastorm.
Some of you know that storm was my big break in this business as a 20-something rookie meteorologist at WCCO-TV in Minneapolis. I've written about my megastorm experience before.
I'm still amazed that the 1991 Halloween blizzard remains the biggest single snowfall event for the Twin Cities, Duluth, and much of eastern Minnesota.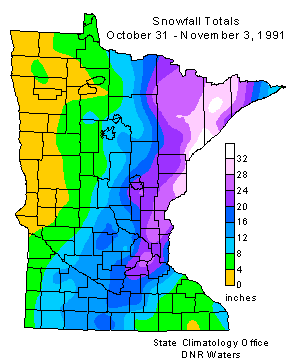 Storm of record
The Halloween megastorm is still the biggest snowstorm on record for the Twin Cities, Duluth and most of eastern Minnesota and Western Wisconsin.
Note on the graphic above that the biggest snowfall since 1991 (17.1 inches) is the "domebuster" in December of 2010. That impressive snowfall total is still nearly a foot below the megastorm.
The third biggest snowfall since 1991 (15.8 inches) happened just last April with the Dayton's monkey blizzard.
So the 1991 Halloween megastorm is standing the test of time as the storm of record in much of Minnesota.
Here's a closer look at the range of Halloween weather conditions from the Minnesota DNR State Climatology Office.