Wilf presents stadium plan to Blaine officials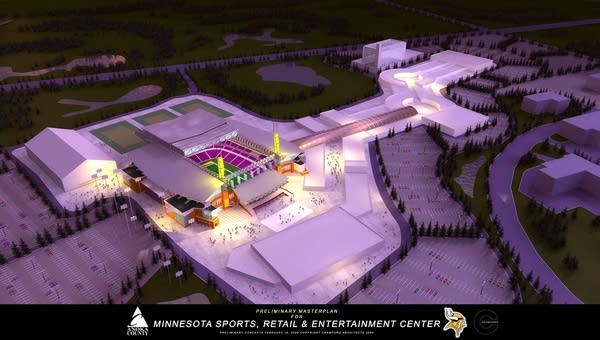 The way Zygi Wilf and his associates described their proposal for a sports retail and entertainment center in Blaine, you might almost forget that the proposal had anything to do with a football stadium. Wilf's pitch seemed more along the lines of a town within a town, given all the amenities the center would include.
"Retail shops and restaurants, housing, space for small businesses, corporate hotel, medical facility, and 200 acres of preserved wetlands," Wilf said. "We cherish this opportunity to incorporate this into the entire project."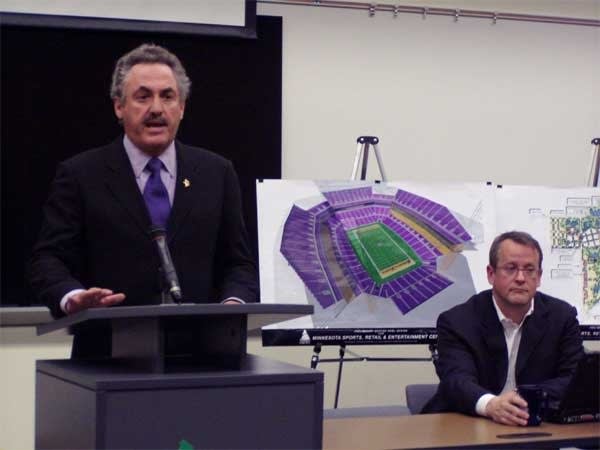 Wilf did eventually get around to talking about the Vikings football center, which would include a retractable roof stadium, team headquarters, practice facility, a Vikings store and hall of fame. 
Then his colleague, architect David Murphy, went on to describe how technology could transform the development site, which is currently just an open tract of land across from a shopping mall, into "a recreation of the Northern Lights, or a Las Vegas-style light show."
"If you've been to Las Vegas, been to Fremont Street, the technology today has advanced to a position now where we can create a covered environment that can become a simulation of the Northern Lights," Murphy said.
The heavy focus on non-football amenities came across as an attempt to cut through "stadium fatigue." After all, there have been a lot of stadium proposals from various Minnesota teams over the past few years, as Republican Rep. Jim Knoblach recounted.
"This will be like the 10th session that we've had some stadium of some kind rattling around trying to get funding," Knoblauch said.
Wilf's proposal called for $280 million from an Anoka County sales tax, and $115 million from the state. The rest would come from the Vikings and NFL. Wilf says he and his partners would provide additional funding for the expanded project. 
Ultimately, it's people like Knoblach in the state Legislature that Wilf and company will have to persuade. The Blaine City Council seemed already favorably disposed to Wilf's pitch, and only makes decisions about land use for the site in question. And Wilf already has an agreement with the county. 
State legislators, on the other hand, are being asked to sign off on a countywide sales tax for the development's financing.
Knoblach has insisted that such a sales tax must be put to a vote by county residents, and he's pessimistic the stadium plan could happen otherwise.
"I myself do not see the Legislature giving permission to levy the local option sales tax themselves. That is contrary to state law, and I think we need to obey the law as it is," said Knoblauch.
Even if voters were allowed to weigh in on the tax, Anoka county resident Bruce Pomerantz, who attended Wilf's proposal to the Blaine city council, says taxpayers won't buy the deal.
"The people would not support giving money to a billionaire for a playpen," Pomerantz said.
Pomerantz says he doesn't take Wilf seriously when he talks about how the stadium can help the local economy. Pomeranz is especially doubtful of Wilf's argument that the project will generate thousands of jobs.
"The jobs he talked about are clerical jobs. Retail, clerical. Or in restaurants. The busboys, the waiters," Pomerantz said. "There's no corporate jobs. There's no industry jobs. Those are well-paying jobs. Those are the jobs that Anoka County residents need."
Vikings fan Jeremy Olson feels differently. Olson also attended the Blaine meeting, where he passed out CDs of a song he wrote about the team. The CD came in a sleeve with the title "Be Bold" hand-written in pencil. 
Olson says he understands some of the reservations about Wilf's proposals, but he thinks it's time for the Vikings to do something big.
"I'm a diehard Vikings fan, and I always have been and always will be. I'm excited for a new era. I think it's time for a new era to move on, and to set ourselves apart," said Olson. 
It's unclear whether the Minnesota Legislature will even vote on Wilf's plan this year. The city council, in the meantime, has to weigh the Vikings proposal alongside several other options for the land.
Gallery
1 of 1