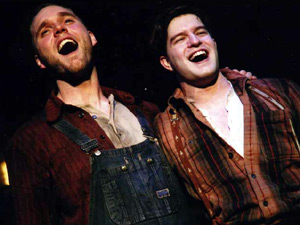 Floyd Collins was a man who believed he was lucky. He was an avid cave explorer and a big dreamer who made a living 80 years ago from the cave tourism industry in Kentucky. In 1925, Collins was exploring a narrow network of tunnels on a neighbor's property when a rock slid and trapped him. Over the next two weeks, rescue crews rallied to extract him from below, but failed.
In 1994, Collins' story was transformed into a musical. Theater Latte Da' s artistic director Peter Rothstein has been wanting to stage the show for a while now, but wasn't quite sure how to accomplish it.
"In the opening 10 minutes he travels 150 feet underground and we have 14-foot ceilings," says Rothstein. "How am I going to do that?"
Rothstein eventually figured out how to create the illusion of descending into the network of caves in his modest theater space. The stage looks like the opening to a mine shaft, with scaffolding stretching far back in an optical illusion. Rothstein set about scheduling the show, even though he knew it wouldn't be an easy sell to audiences.
"Audiences often have a very limited view of what musical theater can do," says Rothstein. "Certainly most don't expect it to be two hours in a cave, ending in death. I also think people expect to go to a musical and want to walk to their cars humming the tunes. This is not that kind of musical."
Adam Guettel wrote the music for "Floyd Collins." Guettel is the grandson of Richard Rodgers of Rodgers and Hammerstein. He's known best for his musical "Light in the Piazza," now playing on Broadway. Rothstein says "Floyd Collins" features an artistic voice similar to "Light in the Piazza." But that show is set in mid-century Italy. "Floyd Collins" is in 1920's Kentucky, and has its own musical styling.
"This piece is definitely set in Appalachia," says Rothstein. "You hear lots of bluegrass, lots of Copland, you hear Dixieland you hear Vaudeville; it's an amazing new voice in the musical theater."
Soon after the show begins, Floyd Collins sets out exploring, and soon discovers he's hit, as he puts it, a "big un'". By the light of a small lantern, Collins calls out, and hears the vastness of the cave in the echoes that come back to him. He's certain he's found his fame and glory.
"Floyd believes everyone in America will know his name because he's discovered these caves and there will be a place in history books, one sentence with his name," says Rothstein. "The irony is everyone in America does learn who Floyd Collins is because they all attend his funeral as he's buried alive."
Buried alive: the idea both fascinates and horrifies us. When word got out that Floyd Collins was stuck underground, the American media went into a frenzy, the first of its kind, often reporting exaggerations of the truth or outright fabrications. Artistic Director Peter Rothstein says he was shocked when he watched history seemingly repeat itself this past January as 12 miners in West Virginia were mistakenly reported to have been found alive.
"That's an exact parallel to what happens in this world of Floyd Collins," says Rothstein. "There are three reporters who are presented in this real Vaudeville kind of style. There's a whole dance--'He's free, he's free, he's not free'--and is quite funny in the musical. I thought, 'Oh, this might not be funny anymore.'"
Rothstein says audiences still laugh at the media circus, but not as much as they might have had the January tragedy not occurred. Not all of the journalists depicted in the musical were oafs. In real life, young cub reporter Skeets Miller was so slight of build that he was able to get down next to Floyd Collins, bring him food, and try to help him out. His stories on Floyd Collins eventually won him a Pulitzer Prize. Star Tribune Theater Critic Graydon Royce says, for obvious reasons he connected with Miller's character. "You can imagine him growing through this process--and I think as all journalists do--realize that this is a rough business. It cannot help but affect you, either make you very jaded or very sensitive to the heartache that's out there in the world."
Royce says he very much enjoyed Theater Latte Da's production of "Floyd Collins," but he left thinking the story is better suited to one's imagination than the stage.
"You know if you sit and think and read about it," says Royce, "and imagine a man stuck 150 feet underground in a pitch black cold tunnel, so tight that he cannot reach down and pull a boulder off his foot, those images, at least for me, are so claustrophobic and compelling that if you don't see that on stage, that realism, it cannot help but be a little bit of a letdown."
On the stage, Royce says, panic and fear are replaced by beautiful songs. But Artistic Director Peter Rothstein says the music is an advantage. It allows us to enter Collins' interior world, where realism wouldn't let us go, as when Collins finally confronts his own death.
"Again, you don't expect that in musical theater," says Rothstein, "but I think it's a really profound moment when Floyd just stops and begins to make that transition to cross and it's a series of questions that he has in that final moment."
The questions Collins addresses to God are: Will there be light? Will I see my mother? Will I be surrounded by familiar faces, or will I forget this life? Peter Rothstein says he hopes audience members will come away with the feeling that our lives are fragile but also filled with hope and wonder.
In real life Collins was finally pulled out of the caves two months after he died. In the musical, once Collins dies he's released from his earthly bonds. He gets up, puts on his hat, and starts exploring his great cave.
Floyd Collins runs through May 21st at the Loring Playhouse in Minneapolis.