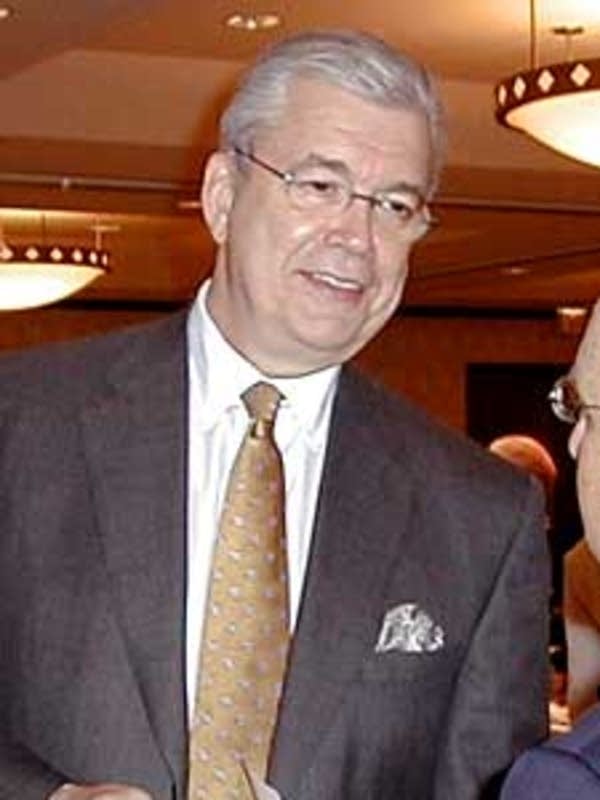 Heading into its annual meeting, UnitedHealth Group and its CEO, Bill McGuire, face criticism on two separate, but related, fronts. First is the sheer amount of McGuire's stock-based compensation. His $1.5 billion in unrealized stock option gains place him among the world's wealthiest business leaders. The second front involves whether a small portion of that wealth came by questionable means.
In a Monday speech before a conference of business writers in Minneapolis, McGuire defended the practice of stock-based incentives, but declined to discuss his specific compensation. He said UnitedHealth's board of directors was working on permanent revisions to its policies.
"These will relate to an ongoing process of bringing up to date how we incent, what we do, and related matters," says McGuire. "I am fully confident the board will reach conclusions that are appropriate for the shareholders and everyone else involved."
After the speech UnitedHealth announced a number of changes. Among other things, McGuire and president Stephen Hemsley will no longer receive stock-based incentives and will lose their retirement health insurance. Board members will also cut their own pay by 40 percent.
While these changes may soothe some investors at today's meeting, they are unlikely to make the controversy go away.
UnitedHealth Group's current trouble began in March, when the Wall Street Journal analyzed the stock options granted to a number of CEOs, including McGuire. The options are the right to buy company stock in the future at a particular price. In the case of McGuire and the other CEOs, those purchase prices seemed unusually low. In McGuire's case, the annual grants sometimes fell on the stock's low-point for the year. According to the Journal analysis, the chances of that happening randomly are one in 200 million.
From there, the Securities and Exchange Commission got involved, and is currently investigating whether McGuire was allowed to "backdate" his options -- that is, to use the benefit of hindsight to choose a date and price in the past that would maximize his gain. Strictly speaking, backdating is not illegal -- but there may be tax and regulatory penalties if it was not adequately disclosed.
There may also be shareholder backlash against the company's board of directors. Until 2005, UnitedHealth had the unusual -- but public -- policy of allowing McGuire to choose the dates of his options grants. The policy did not specify whether this included choosing dates that had already passed. Some shareholders at the annual meeting plan to vote against the re-election of McGuire and two board members who sit on its compensation committee.
The company has assembled a committee of lawyers and independent UnitedHealth directors to examine UnitedHealth's past practices. When a reporter from the Wall Street Journal asked McGuire on Monday if he planned to step down if backdating is discovered, the CEO deferred to the committee.
"Other people are more appropriate to address that than I," said McGuire. "An unbiased response is what we need in this kind of situation. And I would assume no one more than the media would want something that is unbiased."
Asked again, McGuire said, "I have no response beyond, 'I will do what the company and its independent people find.'"
Asked last month if he had received backdated stock options, McGuire responded that he "sleep(s) with good conscience."
Whether the allegations of backdating prove true or not, they have put a spotlight on McGuire's overall compensation package. Along with an $8 million dollar salary and bonus last year, the value of McGuire's large stock options grants have followed his company's stock price to enormous heights. Steve Kaplan, a professor of finance at the University of Chicago, says during McGuire's tenure the company's stock price has gone from about $2 a share to almost $50 -- and that's after a drop caused by the recent controversy.
"So that stock has gone up 25 times, which is tremendous performance. He has overseen a company that has done terrifically well, and he received a lot of pay that was equity based. So that kind of performance in this day and age deserves to be well-compensated," Kaplan says. "Shareholders I'm sure would be very happy with that performance."
Others who have not seen their wealth grow along with McGuire's have been more skeptical about whether the company's board has gone too far in rewarding its star CEO. UnitedHealth partners with AARP to provide an insurance plan for its members -- a relationship important enough to merit a separate section in the UnitedHealth's annual report. AARP spokesman Mark Kitchens says members have been alarmed at the reports of McGuire's pay, partly out of concern that it raises the cost of their own health insurance.
"The number one concern we have is protecting our members, and the trust that our members place in AARP is of the utmost importance," Kitchen says. "And we're going to continue talking with UnitedHealth Group about the serious issues raised here."
Kitchens says the company has reassured AARP that the stock options granted to McGuire and other executives do not increase the company's insurance premiums. McGuire himself made the point that his stock option gains don't cost the company's customers anything at all.
"If there are gains, they are, in fact, paid for by the shareholders. They do not come like cash out of the annual compensation of employees, and hence they are excluded from the cost structure for the underlying business, and ultimately the underlying customer," McGuire said.
Most finance types agree shareholders bear the brunt of the cost of McGuire's stock options. They can wind up paying for them in two ways, depending on what the company does when McGuire decides to cash them in. UnitedHealth might simply choose to buy the shares back from him, in which case the cash cuts directly into the company's profit margin. Or McGuire might sell the shares on the open market. This increases the overall number of shares on the market and thus dilutes the value of other shareholders' stock. As the number of shares go up, the amount of earnings per share goes down. The amount of the effect depends entirely on how much McGuire sells, and when.
Shareholders generally go along with the system, under the logic that they gain more from having an effective CEO than they lose from that CEO cashing in his stock options.
But John Reik, a finance professor at the University of Minnesota says there might be another step in this chain of events. Shareholders, he says, expect a certain level of earnings. When options cut into those earnings, the company will turn to other means to raise them.
"At some point shareholders are going to say, 'Wait a minute, our share of the profit is too low, we need more profit.' And how are you going to do that? The company either has to charge more or spend less to provide those medical services," says Reik, "and that's where it starts touching the customer, not just the shareholder."
UnitedHealth counters that this just isn't happening. While premiums may be rising, McGuire points out that the growth in health care costs has actually slowed in recent years. Company officials say the firm has grown because its effective in containing costs for its customers. In any case, even critics concede paying executives less would be unlikely to affect the cost of health care.
Has UnitedHealth simply decided to pay McGuire too much money? It depends on whom you ask. One analyst likens it to the debate over pay for professional athletes: Competition for the top talent can be fierce, and companies pay what they think it takes to keep it. Another states his strong belief that McGuire would have stayed at UnitedHealth and done an equal job with a far smaller package.
And then there's the legal question of backdating stock options, which may ultimately force a deeper reckoning at UnitedHealth. Finance professor Steve Kaplan -- the same one who earlier lauded the company's "tremendous performance" under McGuire -- looks at it this way.
"If the allegations are true, it's sad. Here's a guy who did a great job, and just pushed the envelope a little too far." says Kaplan.
By eliminating stock option grants for McGuire and setting definite dates for others who still get them, UnitedHealth has now made it clear backdating will not happen in the future. Whether it happened in the past is a matter for the SEC and the company's independent committee. In the meantime, shareholders have today's meeting to have their say.
I'm JH, MPRN.