Major party governor endorsees face primary challenges
Becky Lourey and her lieutenant governor running mate Tim Baylor stood side by side in the Secretary of State's office. The DFL state senator from Kerrick signed the papers and paid the fee required to run as a candidate for governor in the Sept. 12 primary. Lourey says she'll run a positive campaign that focuses on issues, including health care and education. She's optimistic about her chances.
"I think that as Minnesotans look at my leadership style, my experience and the success of the things I have done in the Legislature, as a business owner and as a mother, that they will be excited," Lourey said.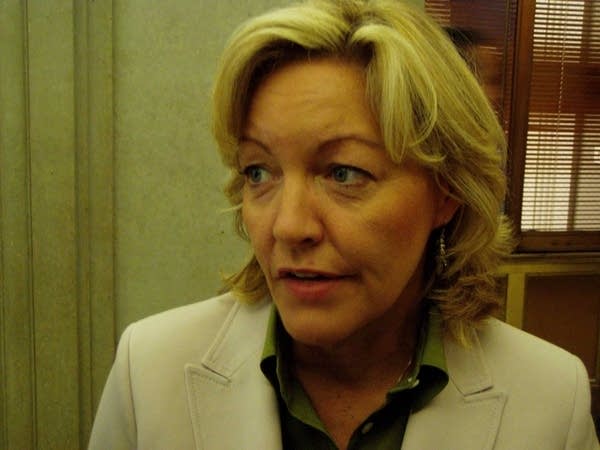 But a statewide poll out this week suggests Lourey has a long road ahead just to get voters to know who she is. The latest Minnesota Poll found her name recognition at 34 percent.
Lourey says she thinks there are problems with the poll's methodology. She also says recent history shows the difficulty in making early conclusions about a governor's race. "Gov. Ventura, at this point, was I believe 22 points behind Humphrey and way behind Coleman as well," she noted. "And Gov. Pawlenty, at this point, was way behind Roger Moe and even Tim Penny. So, the campaigns haven't really gotten into full swing. This kind of name recognition at this point is very positive."
Lourey tried but failed to win the DFL Party endorsement last month, when DFL delegates picked Attorney General Mike Hatch as their candidate for governor.
Hatch says he respects Lourey, and sees her candidacy as a positive addition to the campaign.
Before you keep reading ...
MPR News is made by Members. Gifts from individuals fuel the programs that you and your neighbors rely on. Donate today to power news, analysis, and community conversations for all.
"I'm one of those people who believes that primaries actually serve a good purpose, for both political discourse and for the candidates that eventually go on and win," Hatch said. "It allows people to get an earlier focus in terms of the issues of a campaign. Without a primary, you'd be waiting until September before there was any discussion between the two parties. So, I welcome it."
Hatch says his campaign focus will be on the man he wants to replace, Gov. Tim Pawlenty.
The incumbent Republican is also facing a primary challenge -- Minneapolis bar owner Sue Jeffers, whom state GOP leaders blocked from seeking party endorsement. Jeffers says by entering the primary she now gets to make her case to the people.
"I want to open the debate," Jeffers said. "I want to send our state in the vision of smaller government, putting the voice back to the people, the things that supposedly Republicans stand for. And I think that's what Republicans want too, someone they can actually have faith in that will lead us in the right direction. Tim Pawlenty was a step in the right direction. We can just do better, and I'm that candidate."
Jeffers is also dealing with a name-recognition problem. Only 18 percent of the respondents to the same Minnesota Poll knew Jeffers's name. State Republican Party spokesman Mark Drake says Jeffers won't be much of a factor.
"I think Republicans are overwhelmingly behind Gov. Pawlenty," Drake said. "I think Republicans overwhelmingly believe Gov. Pawlenty has done a great job on taxes, on cracking down on illegal immigration and providing accountability in government."
A primary contest is also expected in the Independence Party. Peter Hutchinson is the endorsed IP candidate for governor. His primary competition will come from Pam Ellison, who waited for the final day of the filing period to enter the race.
Gallery
1 of 1