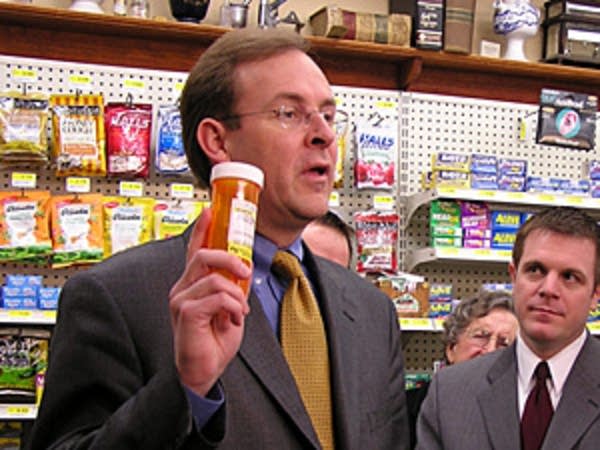 Jennifer Mattson says she'll challenge the DFL attorney general endorsee because she believes Matt Entenza will be a drag on the DFL ticket.
Mattson says she has two major concerns with Entenza. First, she says Entenza would have a conflict of interest if he's elected because his wife works for and received stock options from UnitedHealth Group. That company's stock options practices are currently being investigated by the attorney general as well as federal officials. Secondly, she says she's disappointed that Entenza hired a Chicago-based research firm last year to look into fellow DFLer Mike Hatch.
What makes this interesting is the Hatch and Entenza are both endorsed by the DFL Party - Hatch for governor, Entenza for attorney general.
Mattson says she doesn't think party delegates would have backed Entenza if they had known about his actions.
I am an attorney first, and a reluctant politician. Matt Entenza is a politician who happens to be an attorney.

Jennifer Mattson, attorney general candidate
"Had that been known at the convention, I doubt very much that they would have endorsed him," says Mattson. "Certainly, every activist I talked to over the past week has been disgusted by these revelations."
Entenza's campaign manager John Van Hecke said the attorney general's office has ways to avoid any potential conflicts of interest. He and a spokesman for UnitedHealth say Entenza's wife is not the subject of an investigation by the Securities and Exchange Commission.
In terms of the opposition research, Entenza initially said he hired the researcher because he wanted to learn how the office worked. He later said the company went above and beyond his request when it looked into a parking ticket Hatch received in Dakota County.
Van Hecke disputes Mattson's claim that Entenza would be a drag on the ticket.
"People want an experienced attorney general," he said. "Matt has the kind of background he has a twenty year record as a white collar crime prosecutor advocate. That kind of experience will lead the ticket."
This isn't Mattson's first attempt at politics. She unsuccessfully challenged the DFL-endorsed candidate for secretary of state in 1998. Mattson's family has also been involved in politics. Her grandfather is former Attorney General Robert Mattson Sr., and her father is a former state auditor and a former state treasurer.
Mattson says she did not discuss her candidacy with Hatch, who told the Star Tribune last week that he was looking for a Democrat to challenge Entenza in the primary.
When asked about Mattson's candidacy, Hatch said primaries help define the candidates. He would not comment when asked about his relationship with Entenza.
"I'm focused on my own campaign. I'm not running for attorney general, I'm not running for any other position. I'm running for governor so we stay focused on the governor's race," says Hatch. "We have a lot of issues to talk about with Mr. Pawlenty but we don't have much to do with the attorney general's race, so we'll leave it at that."
Entenza is also receiving a heavy dose of criticism from the Republican-endorsed candidate for attorney general, Jeff Johnson. Johnson says integrity has now become an issue in the attorney general's race. He says Entenza lied when asked about his opposition research into Hatch.
"Matt Entenza seems to believe that telling the truth is optional in this race for someone who is seeking the job of attorney general, and it's not," says Johnson.
Johnson also continued to question whether Entenza could prevent any conflicts of interest regarding the investigation of UnitedHealth.
Johnson, an employment lawyer, said he isn't sure if he could legally release his own list of clients for the public to scrutinize. The Entenza campaign says Johnson is someone who will work against the public and in favor of big business.
Johnson faces a primary challenge from frequent candidate Sharon Anderson. The Independence Party has endorsed John James, whose primary opponent is Dale Nathan.