Parts of Minnesota are in an "extreme" drought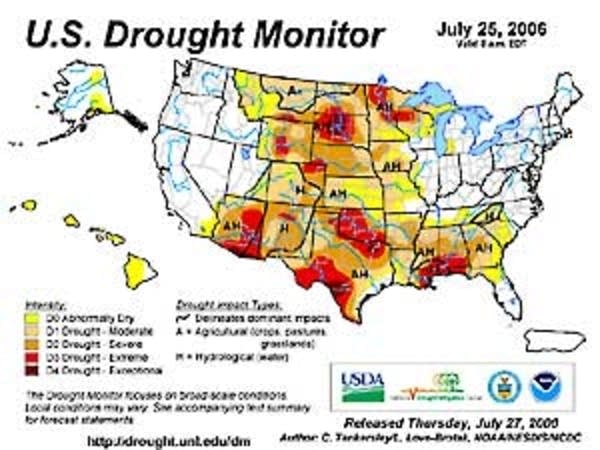 People across the northern half of Minnesota have watched for weeks as summer rains have skirted to their south. Farm fields are parched, and river and stream levels are nearing the low water marks they hit during the region's last major drought in 1988.
There's been some rain across the drought area, but assistant state climatologist Pete Boulay maintains it's not the kind of rain typical for Minnesota this time of year. What's missing are those crashing overnight thunderstorms that drop two and three inches at a time.
"For the most part, what rain has fallen has been too widely scattered to really change the bigger picture of things," Boulay said.
The bigger picture is that there's a rain deficit of three to six inches, along a line from the Canadian border into central Minnesota and over into northwestern Wisconsin.
The National Drought Mitigation Center says because of the lack of rain, coupled with some pretty hot summer temperatures, the region is in what it considers an "extreme" drought.
So what's to blame for the dry spell? According to University of Minnesota climatologist Mark Seeley, it's the jet stream.
"We haven't had a consolidation of what we call the polar jet stream, that is the band of high winds aloft that tend to serve as a steering mechanism for bringing low pressure systems across the continent," Seeley said.
The result has been only scattered showers and storms across the state for about the last six weeks, and they haven't been enough to reverse the worsening drought. Seeley thinks the dry spell will continue into next month.
"At least until about mid-August. We don't see a pattern that's going to bring us a lot more precipitation to make up for these deficits we've accumulated," Seeley said.
The continuing drought has prompted the Department of Natural Resources to ask Minnesotans, especially residents of Minneapolis, St. Paul and St. Cloud, to conserve water. Those cities get their water from the Mississippi River where drought conditions have lowered water levels.
The DNR isn't asking for serious cutbacks at this point, just that residents not waste household water, and not water their lawns in the middle of the day.
Minnesota has seen a drought of another type this summer, a tornado drought. According to the National Weather Service there have been only four reports of tornadoes in the state so far this year. And it's not just here in Minnesota. In Oklahoma so far this year, there's only been 17 tornadoes. Usually the state gets twice as many.
Gallery
1 of 1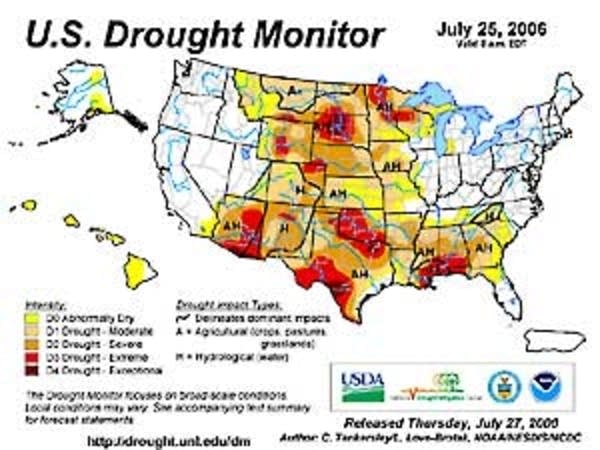 Your support matters.
You make MPR News possible. Individual donations are behind the clarity in coverage from our reporters across the state, stories that connect us, and conversations that provide perspectives. Help ensure MPR remains a resource that brings Minnesotans together.