MPR poll: Klobuchar gaining strength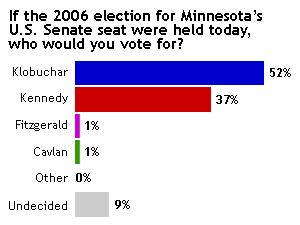 The poll interviewed 625 registered voters in Minnesota between September 18 and September 20. The poll found that a little more than half of those polled -- 52 percent -- support Democrat Amy Klobuchar. Thirty-seven percent support Republican Mark Kennedy. Independence Party member Robert Fitzgerald and Green Party member Michael Cavlan each received the support of one percent of respondents. Nine percent are undecided. The poll has a margin of error of plus- or minus-four percentage points.
Klobuchar campaign manager Ben Goldfarb stuck with the campaign's usual response when asked about the results. He says the campaign doesn't pay much attention to polls. Goldfarb expects the race to be close but is pleased that Klobuchar has maintained a lead in several independent polls.
"We've been all over the state and we've been talking to folks for a long time now and it has been pretty consistent that we're hearing that they're ready for change," Goldfarb said. "They're fed up with the high cost of health care and gas prices and homeownership and college tuition and they know we can do better."
Kennedy campaign manager Pat Shortridge says he isn't bothered by the latest poll numbers showing his candidate behind by double digits. He says he expected Kennedy to be behind at Labor Day but expects support to grow as election day gets closer. Shortridge says voters will start moving Kennedy's way once they understand where the candidates stand on the issues.
"We clearly look at it as a very close and hotly contested race," Shortridge said. "And clearly the Democrats are treating it as such as well since they sent $300,000 to the DFL Party. They reserved $2 million on TV time on behalf of Amy Klobuchar and Bill Clinton was here last Saturday. It sounds to me like they're pretty clear: it's a close race."
Shortridge also says the poll was conducted before Amy Klobuchar fired her chief spokeswoman for viewing an unreleased Kennedy TV ad. He says that will draw some voters to Kennedy. The poll indicates Kennedy can rely on the support of loyal Republicans. Eight in 10 Republicans say they support Kennedy. One of them is Larry Tillemans of St. Joseph.
Before you keep reading ...
Did you know that MPR News is supported by Members? Gifts from individuals power the headlines, clarity and context found here. Give during the Fall Member Drive to become a Member today.
"I basically vote straight Republican and I don't know a whole lot about the issues," he said. "I have a lot of faith and confidence in what the president does and the party," Tillemans said.
Kennedy seems to be struggling among independent voters, typically an important block in any election. Twenty-seven percent of the independents polled back him but nearly twice as many -- 53 percent -- support Klobuchar.
One self-declared independent voter, Susan Phillips of Forest Lake, says Kennedy has some work to do to win her vote.
"I like what Mark Kennedy has to say except that I seem to remember the last time he ran... I felt that he ran a very dirty campaign and I'm a person who has a very long memory," Phillips said.
Phillips says she supported Independence Party member Robert Fitzgerald, but now feels like he's not going to win. She says she's leaning towards voting for Klobuchar. Phillips is one of a large portion of poll respondents who aren't happy with Congress. Sixty-seven percent don't approve of the way Congress is doing its job. Only 17 percent approve. Sixteen percent were undecided.
The war in Iraq emerged as the leading issue in the Senate race. Twenty-one percent rated it the most important issue. Kathleen Miller of St. Paul says she's voting for Amy Klobuchar because she believes she'll challenge President Bush on the war.
"I just think it's a horrible, misguided hideous atrocity," Miller said. "We never should have gotten in. We have spent an exorbitant amount of money and more importantly killed so many American kids."
Fifteen percent of those polled view health care and Medicare as the most important issue in the race. Twelve percent view the "war on terror" and homeland security as the most important issue. The candidates have just over six weeks to make their case to the voters. The next Senate debate is October 10.
Gallery
1 of 1