Weisman unveils expansion plans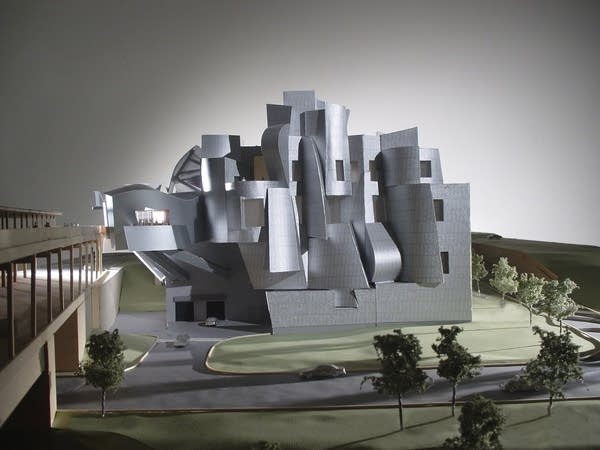 You may have heard of the "Bilbao effect." It's used to describe what happens when a new cultural monument transforms a city. The term was inspired by the Guggenheim Museum that architect Frank Gehry designed for the city of Bilbao, Spain. What fewer people have heard of, but museum director Lyndel King considers equally important, is "the Weisman effect."
If you'd asked people on the campus, 'Was there an art museum here before 1993,' they would have scratched their heads. Now I don't think you'd get that response," King says.
Frank Gehry completed the original Weisman Art Museum in 1993, four years before his famous Bilbao museum. The shiny silver building, towering on the bank of the Mississippi, drew attention for curves and angles that defied reason. University of Minnesota President Bob Bruininks says it's become one of the university's iconic buildings:
If you take a poll of people on the streets of Minneapolis and St. Paul, they all have opinions about this building, and some of them like it and some of them don't," says Bruininks. "But I've never found a single person who walked through the front doors and wandered around the interior who didn't absolutely fall in love with this building and its magical connection to the Mississippi River."
Grow the Future of Public Media
MPR News is Member supported public media. Show your support today, donate, and ensure access to local news and in-depth conversations for everyone.
Bruininks says the Weisman Art Museum is now the heart of cultural life on campus, and after 14 years, it needs to expand. Gehry's new design adds three more galleries, effectively doubling the space available to show work from the Weisman collection. That's a good thing, according to King, because while the Weisman has a collection of 20,000 objects, only 100 are currently on display.
"It still will be a drop in the bucket but it will be a huge increase in the number of things in the collection that people will be able to see."
One gallery will be devoted to ceramics. The University has amassed an extensive collection of pottery and ceramic art, thanks to internationally renowned potter and former faculty member Warren Mackenzie. A second gallery will showcase works of art on paper and photography. The third gallery will permanently house paintings by American Modernists such as Georgia O'Keeffe, Marsden Hartley and Charles Biederman. King says this gallery will give students an opportunity to see a work of art over and over.
"They'll be able to come back every week, every month, several times a year and see the same thing," says King. "And that's what I think it takes to develop those kinds of relationships that I have with works of art. Having been a convert to art as a college student, having not ever been to a museum before I went to the university, I know it works."
In addition to the galleries, the expanded Weisman will have a new center for collaboration and creativity. Target Corporation contributed $2 million toward the center. Target Vice President Creative Director Minda Gralnek sees it as a place for future leaders, designers and thinkers of the world to learn the art of collaboration.
"We see this as a hotbed, a learning center, a breeding ground for thinkers of all disciplines to come together with artists and designers to innovate and to come up with solutions to make all of our lives better," Gralnek says. While the center for collaboration and creativity may make all of our lives better in the future, another part of the expansion will improve the life of the average museum patron as soon as it's built: the new Weisman cafe. Director Lyndel King says it's not just about food.
"We know that a lot of informal learning takes place between people who've just seen something and talk about it together, so the cafe will not only take care of those human needs for a rest and something to eat, but will also extend the visit and give people the opportunity for that kind of learning," King says.
Since completing the Weisman, Frank Gehry has gone on to design much bigger and much more expensive buildings all around the world. But he's agreed to devote some of his time to the University's mere $11.5 million expansion. His new design will extend his signature odd angles to the back of the museum, which faces the campus. King says the University is thankful Gehry agreed to return to building.
"It's a sculpture, and it's hard to imagine any other sculptor adding on to a sculptor's work of art," she says. "We see this building as a work of art in our collection, so we are really lucky that Frank is willing to do it. It's a very small project for what he's doing now in Abu Dhabi and LA and Manhattan, but I think he cares about this building."
King says having Gehry handle the expansion guarantees its success and ensures that it will remain a campus icon. King says the most important thing Gehry did when he built the Weisman was to make art and design a focus of University life. And in just a couple of years, the Weisman will have an even larger presence on campus. Like it or hate it, says King, you just can't ignore it.
Gallery
7 of 7
1 of 7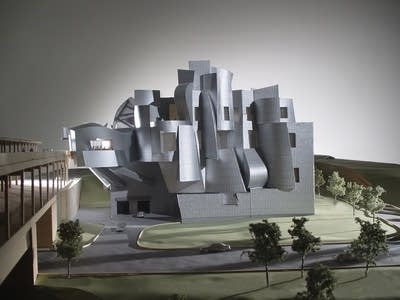 2 of 7