Brewing fuel down on the farm
[image]
There's a fuel refinery set up in a metal-covered shed in the small town of Wannaska. The shed's about the size of a double garage, and even with the refinery equipment, there's still room to park. About 30 farmers watch the on-farm fuel refining demonstration.
A small press sits on a shelf at one end of the shed. Two large screws turn slowly, crushing canola seeds. Oil drips from the press and runs into a tank, while a sausage-like stream of canola meal, the leftover pulp, drops to the floor.
Along one wall are two tanks where a chemical reaction turns the canola oil into biodiesel. Tony Brateng says this setup can produce up to 80 gallons of fuel a day.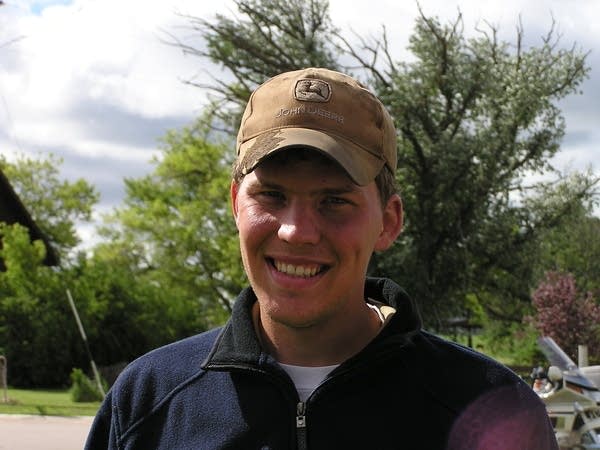 "That's pressing all day you could make the 80 gallons. You'd have to run the press 24 hours a day and work about six mixings," he says.
Brateng is helping run this experiment. He farms 2,000 acres in the Roseau area and explains that the canola oil needs to be mixed with methanol to start a chemical process that turns it into biodiesel.
Brateng says he likes the idea of having the freedom to produce fuel from a locally grown crop.
"Someday there could be fuel rations and things like that. You have to have the fuel to get your crop out of the field. So if you have this sitting in the shed not being used, and you had some canola, you could make a couple batches to make it through a time like that," Brateng says.
This small-scale fuel refinery is cheap to operate but Brateng says there are still some bugs to work out. Right now the process takes too much time, the machinery and process needs a lot of babysitting. But he still thinks it's a worthwhile investment.
"I think it's a possibility to get together with a neighbor, another farmer nearby. I think this system will produce 30,000 gallons a year, so if you have two or three farmers that's plenty of biodiesel to go around," he says.
This pilot biofuel project cost about $30,000 to set up, but a farmer could invest as little as $10,000 to start producing fuel. Derek Crompton, a U of M Extension Agent in Roseau, is coordinating this project. He says the concept has generated a lot of interest and support among farmers and members of Congress.
"You know, Rep. Collin Peterson has been talking about setting up a fuel economy that's local, based on the energy resources within a community; and that's really what this is," says Crompton.
But is this process efficient? The variables are complex. Canola prices are high right now, which makes producing fuel less economically viable. Extracting the oil from canola seed produces thousands of pounds of canola meal. Can farmers earn money from that meal?
It's already used as feed for dairy cows. And some northern Minnesota farmers are experimenting with burning the canola meal for heat, much like people burn wood pellets or corn to heat their homes.
On-farm fuel production clearly has potential, according to Paul Porter, a professor at the University of Minnesota. Anyone with a ready supply of oil seeds like canola, sunflowers or soybeans could start their own small-scale refinery. Its been done for years in Europe. Porter's job is to find a way to make small- scale biofuel production work economically.
"We're starting on the project and we're not alone. It's happening in Maine and Vermont, and Washington and Oregon," Porter says. "There's people here today from Michigan and Wisconsin, so there's a lot of interest. Hopefully we'll generate some information that will enable farmers to make better decisions about this sort of technology."
Porter says there's so much interest in locally- produced biofuels, it's likely research and innovation by farmers will move the concept forward quickly.
There are already plans for a new project next summer. Researchers plan to start running tractors on pure canola oil.
Gallery
4 of 4
1 of 4
2 of 4
Your support matters.
You make MPR News possible. Individual donations are behind the clarity in coverage from our reporters across the state, stories that connect us, and conversations that provide perspectives. Help ensure MPR remains a resource that brings Minnesotans together.