When it comes to deer ticks, Hubbard County in northern Minnesota wasn't even on the map just a few years ago. Deer ticks were found mostly in east central Minnesota. But now the ticks can be found on Shirley and Dean Schmidt's 320-acre cattle and sheep farm near Laporte. They've lived here for close to 50 years.
Shirley remembers it was May 23 when she spotted a tiny tick on Dean while he was sleeping. She says it looked like it had been attached for a while.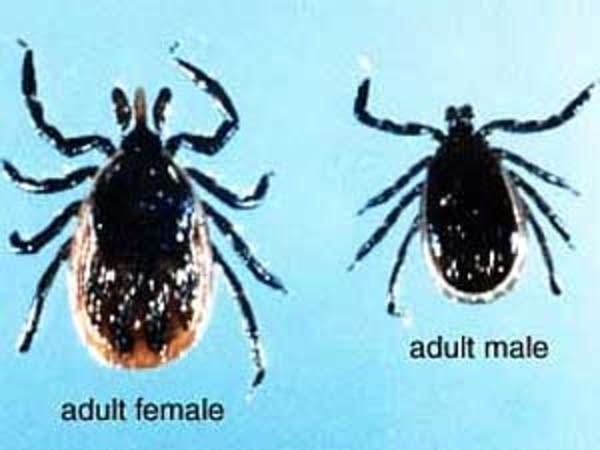 "So I tried pulling it twice and I couldn't get it off," Shirley says. "And that woke him up. So he just pulled it off and threw it. But it was two days later that he ended up started getting sick."
Dean Schmidt suffered bouts of high fever, headaches and chills. He dropped 15 pounds in just a few days. Dean says he barely had enough energy to do his chores.
"Weak, tired, wanted to sleep, wanted to sit, wanted to do nothing..." says Dean. "And my legs were getting tired and numb. And I had to use the handrail coming up the steps. I was acting like an old man."
"Because of the small size of the nymph stage of the tick... less than one in five (people infected with Lyme disease) actually recall being exposed to a deer tick."

Dr Brian Livermore
Dean Schmidt never got a bulls-eye rash or the joint pain commonly associated with Lyme disease.
But Bemidji physician Brian Livermore recognized Dean's symptoms and treated him successfully with antibiotics. Livermore says he used to see maybe one case of Lyme disease every couple of years. This summer he's already treated four cases. Livermore says plenty more have been treated by emergency room doctors.
"People who have infection that goes on more than a couple of weeks are usually getting concerned and come in complaining of the fevers, and have no recollection of a tick bite," said Livermore. "So because of the small size of the nymph stage of the tick... less than one in five actually recall being exposed to a deer tick."
Experts say milder winters and a thriving deer population are helping spread deer ticks northward. Dave Neitzel is an epidemiologist with the Minnesota Department of Health. He says as the state's population grows, more people are living and recreating in tick country.
"What we think is that throughout much of the forested parts of Minnesota that if they don't have deer ticks now, there's a good chance that they'll eventually get there to some degree," said Neitzel. "At this point, we don't see anything that will decrease the prevalence of these diseases."
Last year, 914 cases of Lyme disease were reported to the Department of Health. The state is also keeping track of two lesser known deer tick diseases.
There were 177 cases of an illness called human anaplasmosis, and a record 18 cases of a more rare ailment called babesiosis. Most of the cases were successfully treated. Left untreated, the diseases can cause chronic health problems and even death.
As a precaution, Neitzel recommends long pants and tick repellent when spending time in the woods. Check frequently for ticks and remove them promptly. Neitzel says most importantly, see a doctor early if you develop symptoms.
"Since most of the people that get these diseases are exposed from mid-May through mid-July, factor in a little bit of time for the disease to incubate, there's actually a lot of people that are probably starting to feel symptoms right about now," Neitzel said. "And so if you have symptoms now, go see your doctor, get it checked out."
Dogs can get tick-borne diseases, too. Some veterinarians in northern Minnesota say they're seeing a rise in the number of dogs brought in with symptoms of Lyme disease.