Power line technology allows for bigger loads
Power lines strung between steel towers buzz as they carry electricity from western North Dakota hydro electric plants to Fargo/Moorhead.
You can't tell from the ground, but a one-mile section of this power line just west of Fargo is made of new composite material. It's lighter, stronger and able to carry higher electric loads.
"Because it doesn't expand as much, it doesn't sag as much, and because it doesn't sag as much you can run more current down the line."
Western Area Power Administration Line Foreman Scott Scholl helped install that mile of composite power line about five years ago.
"The two conductors do look similar," says Scholl as he lays chunks of line on his desk. "As a matter of fact, If you're not familiar with them, I could put them next to each other and you wouldn't know the difference in them."
Grow the Future of Public Media
MPR News is supported by Members. Gifts from individuals power everything you find here. Make a gift of any amount today to become a Member!
The traditional power line on his desk has a half-dozen steel wires in the middle, wrapped by a couple dozen aluminum wires. The steel provides strength, the aluminum is a good electrical conductor.
But electricity passing through steel or aluminum creates heat. Heat causes the conductor to expand.
"Once they start loading the lines up as your demand grows, for heating loads in the winter and cooling loads in the summer, it's just going to start sagging and sagging and you could literally have the stuff laying on the ground if they wanted to load it heavy enough," explains Scholl.
Of course sagging power lines pose a danger to anyone passing by, so utilities must limit the flow of electricity to control how much the lines sag.
The composite power line has one key difference according to Pat Ferguson, who's 3M North American Sales Manager for High Capacity Conductors. It replaces the steel wires in the middle with wires made from a composite material that expands very little when it's heated.
"Because it doesn't expand as much, it doesn't sag as much, and because it doesn't sag as much you can run more current down the line before you hit your sag limits," says Ferguson.
Testing by the federal government found the composite transmission line can carry two or three times as much electricity as a traditional power line the same size.
But power companies are cautiously installing the new lines. Part of the reason is cost, since the composite line costs about five times as much as a steel and aluminum line. The 3M composite power line is now installed in about 20 locations in North America and China. One is a ten-mile Xcel Energy transmission line near the twin cities.
Xcel Engineer Kathy Beaman says the line needed to carry more electricity. The traditional approach would be to put in bigger power poles and bigger lines.
But the line runs through some environmentally sensitive wetlands where putting in bigger power poles wasn't a good option. So Xcel opted for the composite power line.
"The 3M conductor for that instance fit our need," says Beaman. "What we needed was reduced sag, more capacity, and we could stay on the same right-of-way with the same towers."
Beaman says the composite line is working well, but cost still limits how often the utility will use it.
"It's not something we would use for every application. That's not to say that in the future the price may come way down and it may be something. But right now it's a tool in our toolbox when the standard conductors aren't cutting it," explains Beaman. The composite power line has been tested for about ten years. Pat Ferguson with 3M, says that's long enough to prove it's reliable and effective, and it's slowly gaining favor among power companies.
"They always want to make sure something works before they try it. That's understandable. I think going forward we'll have more and more acceptance. Right now it's somewhat limited, but people are starting to come around, they're starting to understand the benefits," says Ferguson.
U.S. Department of Energy Senior Project Manager Steven Waslo says the composite power line is a step up for power line technology, and he expects to see more utilities use the composite conductor, especially in densely populated parts of the country where electrical demand is growing and there's little space for new power lines.
Gallery
1 of 2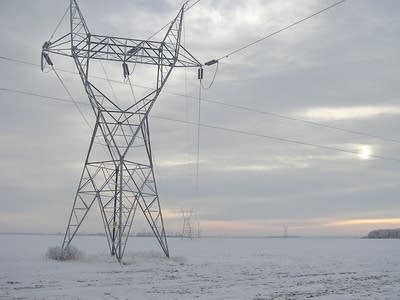 2 of 2