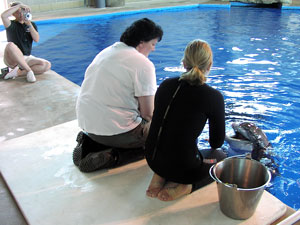 You can't see them yet, but two new dolphins have arrived at the Minnesota Zoo.
April and Allie are both female Atlantic bottlenose dolphins. They arrived at the zoo in Apple Valley yesterday from the Dolphin Connection in Florida.
Zoo officials say the two new dolphins will go on public display once they are acclimated to their new surroundings and caretakers.
The new dolphins join dolphins Semo and Spree at the Minnesota Zoo.
Until they go on public display, the zoo will post updates on April and Allie on its Web site, http://www.mnzoo.org.