Caucus goers turn-out in record numbers
The hardest-fought contest for the White House in decades brought people out in record numbers to Minnesota's precinct caucuses on Tuesday.
The Minnesota Secretary of State was projecting the DFL turn out could approach 200,000 voters with the GOP exceeding 65,000 participants.
Would-be caucus-goers were still driving through the lot at Eden Prairie High School at 8:20, looking in vain for a place to park, long after the political gatherings inside had closed to new arrivals.
At some precincts meeting at the Loring School in Minneapolis, mayor R.T. Rybak said the turnout had increased by eight fold over the last caucuses.
Grow the Future of Public Media
MPR News is supported by Members. Gifts from individuals power everything you find here. Make a gift of any amount today to become a Member!
In St. Paul, organizers shut the doors at Ramsey Junior High at 8 p.m. to keep people from continuing to stream in. Observers said the race between Illinois Senator Barack Obama and his New York colleague Hillary Clinton was bringing new faces to the caucuses in droves.
Naheeda Mirji-Halji said the caucus organizers at the Brooklyn Center High School had literally resorted to handing out Post-It notes for presidential polling at the DFL caucuses there. "They ran out of everything," she said.
Republican gatherings were jammed, too: at Metcalf Junior High in Burnsville, they literally ran out of ballots in the party's non-binding presidential poll. One of the state's leading Republicans, Gov. Tim Pawlenty, has been stumping literally around the country on behalf of Arizona senator John McCain.
McCain is amidst one of the most remarkable political comebacks in history, leading former governors Mitt Romney and Mike Huckabee in the runup to Super Tuesday. McCain had been counted a political casualty just last spring.
U.S. Senator Amy Klobuchar called the evening a prelude to "an election of historic proportions."
Brenda Hoffman described the scene at St. Cloud South Junior High as near chaos on Tuesday night, calling her first visit to the caucuses "just overwhelming. The traffic. The people." She said people were wandering the halls of the school, pleading for Obama stickers. "It's the hottest ticket in town. In a normally Republican town," she said.
To the west, it was standing room only in classrooms at Horizon Middle School in Moorhead, where Republican precinct caucuses were being held. Witnesses called it an unprecedented turnout.
Minneapolis mayor R.T. Rybak was traveling around the North Side, encouraging caucus goers to be patient with the state's sometimes unwieldy political process. One of the state's most prominent Barack Obama supporters, he was urging his constituents to see the process through.
Gov. Tim Pawlenty put in an early appearance before his fellow Republicans in Burnsville as they prepared to let their preferences be known. He didn't make a plea on behalf of McCain, but urged his fellow Republicans to welcome all comers. "The Republican Party is not big enough to throw people overboard," Pawlenty said.
But there were caucus goers were literally turning around and leaving in frustration in some places.
Charlotte Katz from Edina and her husband Fred, are already home, stymied by the traffic jam in front of the DFL caucuses at Valley View Middle School in Edina. "We left our house at 6:15, and we sat in our car for an hour. There had to be thousands cars lined up to get to school. They were still there when we left… We just gave up."
Mark Mammel, of Dellwood, told a similar story of the caucuses at Mahtomedi High School, where both Republicans and DFLers were meeting. "It [was] absolutely jammed," Mammel said. "There [were] more people than anyone had ever imagined." He said caucus goers were writing down their presidential preferences on Post-It notes.
Still, it's clear Minnesota's political season is off to a big start: political observers like Ramsey County elections manager Joe Mansky have been saying for months that they expect turnout in November to be one of the largest in state history.
It's also expected to be one of the hardest fights ever for Minnesota's 10 electoral votes. Although Democrats have carried the state the last eight presidential elections - dating to 1976 - Republicans have put considerable effort into turning the tide in recent years. The party will hold its nominating convention in St. Paul in September.
The caucuses were also the first test of strength among Democratic candidates vying for the party's U.S. Senate nomination, although they don't get a literally vote tonight. Delegates from the caucuses will move up the political ladder to decide the party's nominee at the state convention later this year.
Franken, Mike Ciresi and Jack Nelson-Pallmeyer hoped their supporters would turn out and take the first step toward being delegates to the late-spring state party convention.
Gallery
9 of 9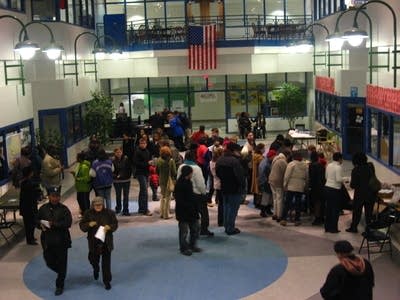 1 of 9
2 of 9