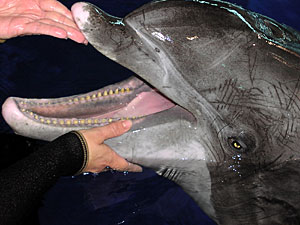 (AP) - The Minnesota Zoo has canceled its popular daily dolphin shows so two new dolphins can become more familiar with their pool companions.
Zoo officials say the animals have lacked focus during their training sessions ever since the 43-year-old male, Semo, was introduced to the two new adult females.
Semo has been without adult female companionship for 18 months. The only other dolphin around has been his 5-year-old daughter, Spree.
Diane Fusco is the zoo's marine mammal supervisor. She says the goal is for Semo to reproduce, and a courtship has already begun with the new 21-year-old female.
Fusco says she hopes the public stays patient while the dolphins get acquainted. The zoo plans to resume the dolphin shows by Memorial Day, if not sooner.
(Copyright 2008 by The Associated Press. All Rights Reserved.)