Hastings is a 20 minute drive from downtown St. Paul right now, but it is not clear how long that ride will take this summer.
That's when the two-lane bridge that links Hastings to the Twin Cities and other parts north will undergo some major repair work.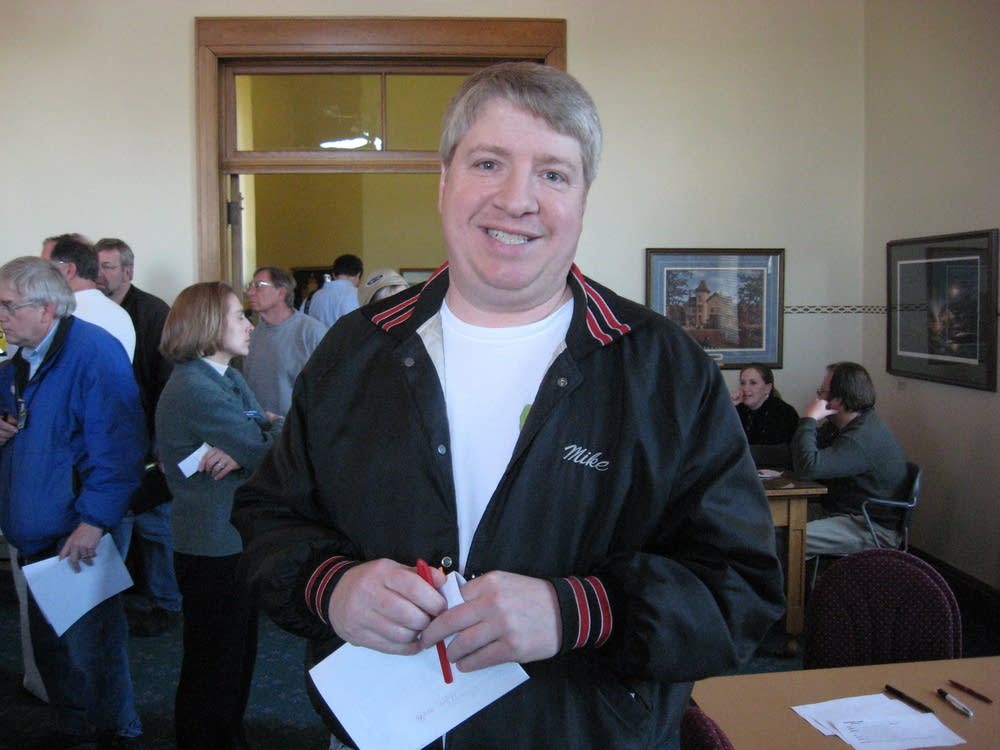 To accommodate the work, some downtown streets leading to the bridge will be closed, altering traffic flow.
But the biggest adjustment, by far, will be the single lane of alternating traffic on the bridge for 24 hours a day, seven days a week, all summer long. Hastings bakery manager Mike Fuchs is trying to look on the bright side.
"It's going to be a big problem, obviously. But, obviously, it's a lesser problem than if the bridge fails. So, we need to get it taken care of," he said.
Fuchs was one of more than 130 people who attended an open house sponsored by MnDOT in Hastings.
Obviously, it's a lesser problem than if the bridge fails. So we need to get it taken care of.

Mike Fuchs
The event was an opportunity for the agency to discuss its plans to manage traffic during the repair project and to point out alternate routes for those who want to avoid the inevitable delays the project will cause. Fuchs said he's worried about his employees who live north of the bridge.
"They still need to be to work on time, and they need to make some contingency plans. But we want to give them information so they can plan their lives," he said.
And he's concerned about his customers.
"Some of our wholesale accounts are north of the bridge. How's that effect my delivery? How's it going to effect the delivery of supplies coming in to my business? Obviously, I'm very dependent upon getting supplies to me. If I have problems there, that effects scheduling, it effects production, it effects getting my product out to my customers," he said.
Fuchs spent time at the open house jotting down information that he hopes will help ease the difficulties that lie ahead.
MnDOT employees came to Hastings armed with maps, aerial pictures and posters to help people figure out alternate routes.
But even after speaking with a MnDOT staffer, Ann Parsons was still weighing her options on how she'll get to Hastings from her home in Red Wing.
"What is the best route for me to go? Do I come up 61 and try to go over the Hastings bridge, or do I go around to Wisconsin area, or do I go up to Diamond Bluff and Prescott?" she asked.
MnDOT estimates that the wait could be from 10 or 15 minutes up to an hour, depending on the time of day.
Right now 32,000 cars use the bridge daily. But the Hastings Chamber of Commerce is hoping to reduce that number by offering a shuttle service.
Michelle Jacobs, President of the Hastings Chamber of Commerce, said while Minnesotans have toiled through roadwork before, this will be different.
"The difference in Hastings is there's not another bridge five to six miles away. The detour is a significant detour. So I think, unless it's a necessary trip, I don't know that we'll have the leisure traveler that we've had," she said.
Jacobs also worries that residents in neighboring towns, such as Cottage Grove and Prescott, will stay away from Hastings businesses because of the inconvenience. And downtown landlords worry that if that happens and businesses shut down, the domino effect could leave them without tenants.
MnDOT project manager Ken Johnson said one of the reasons the agency is holding open houses is to let area residents and businesses know about the plans now, so they can figure out how to deal with the summer-long project.
"We know it's going to be a big impact, unfortunately, well, not unfortunately, but it just needs to be done," Johnson said. "You've got to paint your house, you've got to paint your house. It's the same type of situation, where there's corrosion right now, we have to sandblast it off, and we have to repaint the bridge. We need a few more years out of the bridge, and it just needs to be done."
MnDOT is holding another open house in Prescott, Wisconsin, this afternoon.