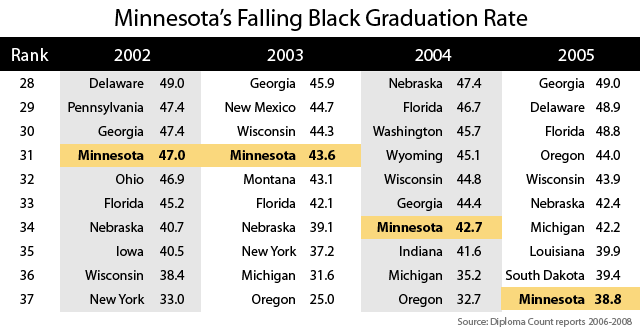 Diplomas Count is the name of an annual report issued by Education Week, the nation's leading education news journal. It has been analyzing graduation rates state by state since 2002.
This year's report ranks Minnesota at the bottom of the 37 states that have consistently reported graduation rates for black students. The rate declined by nearly 10 percent between 2002 and 2005, the last year for which data is available.
Christopher Swanson, research director for the project, said the trend is counter to improving graduation rates in general.
"The nation as a whole is improving, and all the major racial and ethnic groups are also improving. That's not the story in every community," Swanson explained. "So I think its important, when we do see that a particular group is on the decline, you know, to take a really close look and see what's going on there."
Minnesota and Wisconsin have ranked in the bottom 10 states for black graduation for the last four years.