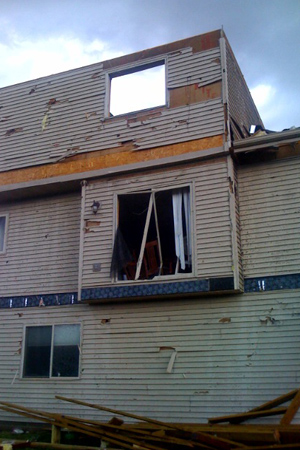 Several tornado touchdowns were reported as a line of strong thunderstorms moved through southern Minnesota toward the northeast on Wednesday evening. A woman injured her knee when a tornado destroyed her house near Fulda, and several buildings on a farm near Springfield were damaged.
Terri Stevens lived in a small house without a basement near Fulda. When the weather hit with a vengeance around 6 p.m., she went for the nearest closet.
"Something hit the back of my head as I dove," Stevens said, shaking visibly. "Everything was loud."
Stevens hurt her knee as tried to take cover. She was later taken from the scene by ambulance as firefighters and Murray County sheriff's deputies wandered the property in awe of the destruction.
Her house was ripped from its foundation, with a bathtub hanging out the back wall and pink insulation spreading across the yard. A tree came to rest on the southern wall, with the north wall being split open. Yards from the house, stuffed animals and other debris covered the lawn.
Next door, Carl Hennager didn't have time to get to his basement when the tornado touched down in his backyard, taking out an outbuilding and scattering debris all over his yard.
"It just went barreling by," he said.
A touchdown or downdraft at a nearby farm spread debris through the grove and out into the field, ripping trees from the ground and tossing lumber around like toothpicks.
"It is amazing no one was hurt worse," Murray County Sheriff Steve Telkamp said.
There was extensive damage to outbuildings but no people or livestock were injured at Ted Anderson's farm about six miles east of Springfield in Brown County.
Anderson said he, his wife, three children and house were fine, as well as their 290 head of cattle, but several buildings on his farm sustained major damage around 7:30 p.m.
Power lines to his cattle operation were down, and his cattle were up to their knees in the muddy mess. Neighbors who rushed to the farm put down hay to give the animals better footing. A brick and wood building near the cattle crumbled.
Anderson said the storm lasted just a couple seconds. He said he stepped outside and saw a tree go down, but it was raining so hard he couldn't see much else. He retreated back inside. When he came out again, he said, he was shocked by the amount of damage.
Dozens of neighbors soon showed up with Bobcat loaders and chain saws to help clear away the downed trees.
Brown County Dispatcher Carl Rolloff said he handled six or more reports of tornadoes touching down throughout his county. He said the damage also included a turkey barn that was destroyed north of Sleepy Eye around 7:30 p.m. Large amounts of debris from the barn were found in nearby roadside ditches. It wasn't immediately clear if there were any turkeys inside.
Wednesday's first report of tornadoes in the state came when the National Weather Service said a trained spotter reported a tornado and building damage about seven miles northeast of Wilmont in Nobles County around 5:46 p.m.
The Cottonwood County sheriff's deputy reported a touchdown about five miles north of Jeffers, or about 25 miles north of Windom, around 7 p.m. Sheriff Jason Purrington said the tornado was on the ground for about a minute and traveled about 2 miles. While there was some tree damage, there were no immediate reports of damage to buildings or injuries there.
Touchdowns were also reported near Winthrop and Gaylord in Sibley County.
A National Weather Service map of the touchdown reports drew a line straight toward the Twin Cities, where severe thunderstorm warnings were issued as the storms moved through starting around 9:30 p.m., but there were no reports of tornadoes in the metro area.
(Copyright 2008 by The Associated Press. All Rights Reserved.)