I-35W bridge project reflects MnDOT's new approach to bridges
At the moment, the new I-35W bridge consists of two halves jutting into the Mississippi River and leaning toward the other.
I stand on a catwalk along the edge of one half and look down. The river froths around barges loaded with construction equipment.
"If you look in the barge in the back, you'll see a segment sitting there. That segment has a bracket on top," said MnDOT's Kevin Gutknecht. "When they are installing it, the crane will reach over and pick up that segment, and lift it up to the bridge and install it in place."
The bridge is like an ant farm, crawling with construction workers in the girders, the deck and the approach spans. Construction crews are on schedule to complete the bridge by mid- September.
Grow the Future of Public Media
MPR News is supported by Members. Gifts from individuals power everything you find here. Make a gift of any amount today to become a Member!
Typically when MnDOT builds a bridge, it buys the plans and assumes responsibility. This time, MnDOT has put all of that responsibility on the design firm and construction companies.
That's meant every change to the bridge is being compared to the original design and every aspect of the bridge is being inspected four times.
"So there are three lines of inspection that occur before MnDOT inspects it," said MnDOT project manager Jon Chiglo. "And so there are multiple levels of redundancy in place to ensure a quality product."
MnDOT's offices sit across the hall from Flatiron Mason, the companies building the bridge. These are new ways of doing business for MnDOT.
Is this MnDOT being cautious, or facing reality?
"When we see problems, we take action we think is the right action. And while it does generate a lot of publicity, it generates a lot of questions," said MnDOT state bridge engineer Dan Dorgan. "I guess our expectation is we just have to handle those. We just have to be confident in ourselves that we've done the right thing."
That conservative style is costing taxpayers at least $45 million in direct costs thus far. That cost includes the replacement of the DeSoto bridge in St. Cloud, work on the Blatnik bridge in Duluth, and early estimates on repairs to the Highway 43 bridge in Winona.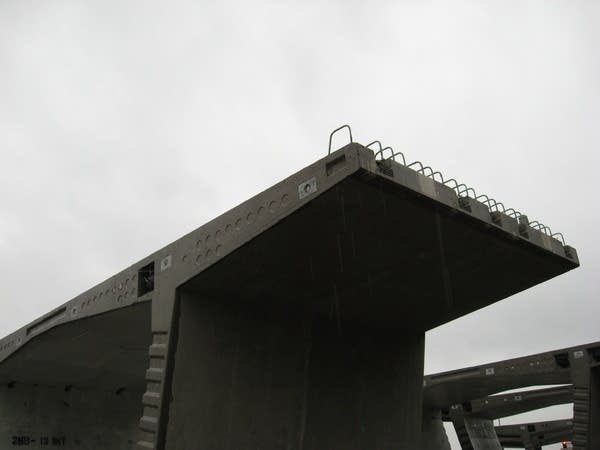 MnDOT is not done inspecting its steel truss bridges either. Of the 25, eight inspections are complete. Another 17 are in process. All of these inspections focus specifically on gusset plates.
"Admittedly, I think we're approaching it far more cautiously than other bridge owners," Dorgan said. "We've had a terrible tragedy in Minnesota, and I think that puts us in a different place. So we're very cautious and conservative in our approach to this. There are other states that are doing these reviews as well. I know Ohio has done some gusset plate repairs themselves."
However, no other state has had to close any bridges due to corroded gusset plates. Minnesota does not expect to close any more bridges, Dorgan says.
Gallery
1 of 1