Theatre de la Jeune Lune closes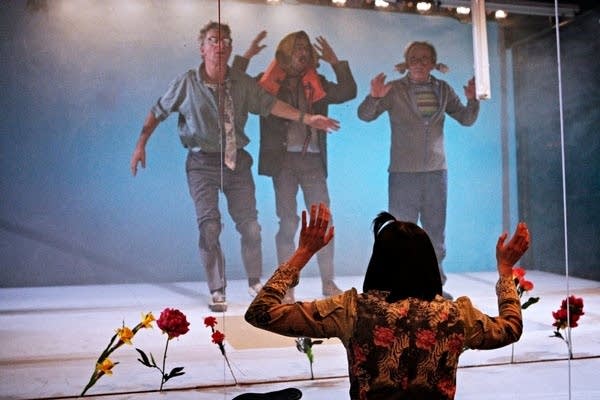 Theatre de la Jeune Lune board chair Bruce Neary says, given the institution's more than $1 million of debt, closing is the right option.
"It's the fiscally responsible thing to do to meet all our financial responsibilities to our staff, artists, donors, creditors," Neary said. "It was time to do it."
When asked if the company ever mismanaged its money, Neary replied the budget was simply not big enough to meet the needs of the theater.
"We've never had a revenue stream commensurate with the impact we've had on the community," Neary said.
Grow the Future of Public Media
MPR News is supported by Members. Gifts from individuals power everything you find here. Make a gift of any amount today to become a Member!
Neary says it's a theater with a $1.5 million annual budget, that never got the funding support it needed to thrive.
Theatre de la Jeune Lune has fallen on hard financial times in the past, and has come close to closing before. But it's managed to dig itself out with a successful show and some retooling.
For years the theater has borrowed against its home, a warehouse in downtown Minneapolis, to cover its debts.
Artistic Director Dominique Serrand says many people assume the $3 million building has been a millstone around the company's neck, but that's not so.
He says the many financial gifts the company received to purchase and refurbish the building back in the early 1990s made it into a real asset.
"What happened after the theater opened was that the building, instead of being a burden, was actually an endowment," Serrand said. "Since we couldn't build an endowment for the theater, we borrowed against its equity. So the theater, the building, has actually helped us live and survive for many years."
Serrand co-created Theatre de la Jeune Lune in 1978 with fellow Frenchman Vincent Gracieux, and Minnesotans Barbara Berlovitz and Robert Rosen. They trained together at the Jacques Lecoq school for theater in France.
At first the company spent half the year in Minnesota and half the year in France, but they eventually settled down in Minneapolis with all four sharing the title of artistic director.
Just a few years ago the founders had a falling out, and Dominique Serrand became sole artistic director.
Serrand says after spending more than half his life with Theatre de la Jeune Lune, he is sad to see it come to an end. But he is proud of the impact it's had on so many artists.
"We counted the other day," he said. ("We found) 2,000 artists in 30 years. Some of them have become writers, poets, directors, film actors. So it's huge, and we'll continue in some way because the artists are still alive, and have plenty to do and plenty to say."
Theatre de la Jeune Lune won a Regional Tony Award in 2005, and it's received international accolades for its work. Both Dominique Serrand and Vincent Gracieux were knighted by the French government for their contributions to that country's culture.
But despite critical success, many of its shows in recent years have performed to half-empty houses.
Serrand says his immediate concern is how the core staff members are going to pay their bills in the coming months. He says he believes the Twin Cities is a great place for the arts, but in this increasingly difficult economic climate, he wonders if it's truly a great place to be an artist.
While Theatre de la Jeune Lune -- which means "theater of the new moon" in French -- is closing on July 31, board chair Bruce Neary says the board is looking at whether it needs to remain intact to help Serrand and other core members of the artistic team create a new and different organization.
"If you go back to Jeune Lune as the new moon forming out of the old, maybe it's time for that to rotate one more time," he said.
Neary says the board is investigating ways to re-invent an agile, nomadic, entrepreneurial theater that will create essential art for today's changing audience.
In the meantime, it will establish a committee to manage the sale of Theatre de la Jeune Lune's building at its regular board meeting later this week.
Gallery
1 of 1