Pawlenty cancels media interviews
Republican presidential nominee-in-waiting John McCain stayed mum about his a running mate deliberations Thursday, even as Gov. Tim Pawlenty abruptly canceled numerous public appearances.
Without explanation, Pawlenty called off an Associated Press interview at the last minute, as well as other media interviews in Denver, site of the Democratic National Convention. Pawlenty is still in the running as McCain's possible vice-presidential pick.
Others believed to be in contention for the No. 2 slot on the GOP ticket included former Massachusetts Gov. Mitt Romney, who was meeting with donors throughout California, and Democrat-turned-independent Sen. Joe Lieberman of Connecticut, who was vacationing on Long Island.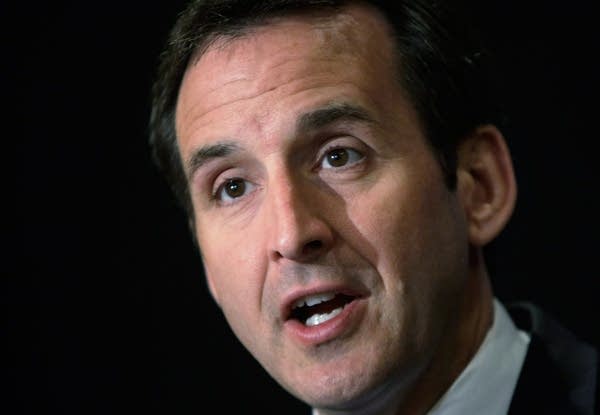 Former Pennsylvania Gov. Tom Ridge, too, was still a possibility, as was the idea that McCain would choose a dark horse from any number of names that have circulated.
Pawlenty joined other Republicans in Denver this morning to rip Democratic presidential candidate Barack Obama.
Pawlenty questioned Obama's qualifications to lead the U.S.
"I think a legitimate question is do the candidates have the requisite experience, judgment, track record, accomplishment to be president of the United States," Pawlenty said. "And I think a critical and fair review of Barack Obama's credentials would answer that question 'no.'"
Asked if he has the experience to be vice president, Pawlenty reminded reporters, as he often does, that he does not address GOP presidential V.P. speculation.
Pawlenty then went on to say: "I would note I have been a governor for six years, commander in chief of the Minnesota National Guard for six years, and before that I was the majority leader of the Minnesota Legislature. [I] have some other life experiences as well."
Pawlenty has said he was scheduled to leave Colorado for Minnesota Thursday afternoon. He said he was scheduled, and was planning, to be at the Minnesota State Fair Friday morning.
McCain is expected to announce his running mate at a rally in Dayton, Ohio, Friday morning.
(The Associated Press contributed to this report)
Gallery
1 of 1
Your support matters.
You make MPR News possible. Individual donations are behind the clarity in coverage from our reporters across the state, stories that connect us, and conversations that provide perspectives. Help ensure MPR remains a resource that brings Minnesotans together.