Police search homes, seize contraband in advance of RNC
Police said the raids were the result of a long-term investigation into a group of more than 30 anarchists that call themselves the RNC Welcoming Committee. They said there were other groups, including Food Not Bombs, that were affiliated with the group, but those groups were not targets of the raids.
The searches were led by the Ramsey County Sheriff's office. Deputies coordinated searches with the Minneapolis and St. Paul police departments and the Federal Bureau of Investigation.
Authorities said that the RNC Welcoming Committee had been planning and training to block delegates from getting to the convention in downtown St. Paul, to attack police lines and even break into the Xcel Energy Center, where the convention is scheduled to open Monday morning.
Demonstrators have allegedly been gathering from dozens of cities around the country, preparing to converge on St. Paul for the convention.
Grow the Future of Public Media
MPR News is supported by Members. Gifts from individuals power everything you find here. Make a gift of any amount today to become a Member!
People at the scenes of the raids said police arrived unannounced and detained dozens of people for identification and questioning.
Most, like Thomas Greiling, were quickly released. Greiling lives at a home searched on 23rd Ave. in Minneapolis. He said it was the second time police had questioned him in 24 hours. He'd been at a gathering in St. Paul raided Friday night, and Greiling said there was no reason for authorities to come to his home, too.
"It's just a pain in the ass, cause there's nothing going on here that's illegal. I'm not worried about it, it's just, it's just annoying," said Greiling.
A few blocks away, Dave Bicking says his daughter, Monica, was one of the five people arrested in the raids. He said he thought police were trying to discourage people from legitimate expression outside the convention in St. Paul, rather than fight crime.
"You know they're intimidating people from even coming to the demonstrations, so they're intimidating everybody, not just, you know, the anarchists or the whatever," Bicking said. "They're intimidating everybody when this news gets out from coming downtown to engage in even legally and permitted marches and the whole thing."
But Ramsey County Sheriff Bob Fletcher showed off a wide array of what he said were makeshift weapons and devices meant to disable buses, block traffic and provoke violence.
There were piles of high security bike locks, tire spikes made from bent sheet metal, a bow and arrow, slingshots, ropes, baseball bats, piles of literature and a giant color-coded relief map of downtown St. Paul.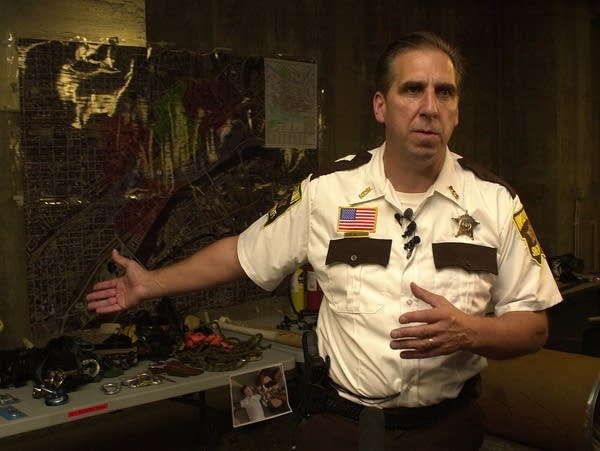 Fletcher lifted up one of three plastic pails partially filled with urine that he said anarchists had planned to pour into bags and balloons to throw at police in coming days.
"Our job is to take every dangerous item out of their hands, so they can't utilize them. We have extensive investigative work, complete with a number of confidential reliable sources that have worked inside this area, this anarchist area," said Fletcher. "We know these items were going to be used, because we had sources that were working inside this organization."
The raids, though, sparked widespread legal debate. Geneva Finn, with the National Lawyer's Guild, was outside a home in Minneapolis cordoned off by police. She said legal challenges to the raids are already in the works.
"It looks like the Minneapolis police are going to attempt and shut down this house on code violations, like they shut down the convergence space in st. Paul," said Finn. "We are going to attempt to prevent that. We're going to attempt to reopen the convergence site. You don't get to just remove people from their houses and board them up, because the police don't like what you're doing inside there."
But other legal experts called the effort good police work.
Notre Dame law professor Robert Blakey helped write federal criminal conspiracy law, and he says police are under no obligation to see if someone intends to act on plans to commit a crime, including civil disturbance.
"When you conspire to do that, it's an agreement beforehand to do it, the agreement itself is criminal. It's often what they get drug dealers for; it's often what they get organized crime figures for--conspiracy, a separate and independent crime," explained Blakey.
Authorities said there may be more actions as the Republican National Convention proceeds.
Gallery
1 of 1