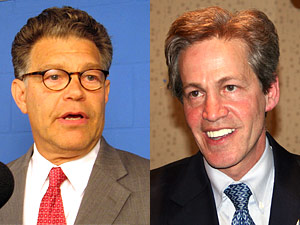 Al Franken didn't come across as surprised or relieved when he was named winner of the Minnesota DFL primary.
"I don't want to dismiss the six others on the ballot, but we were always focus on the general and on Norm Coleman," Franken said.
Of Franken's six DFL primary challengers, Attorney Priscilla Lord Faris ran, by far, the most aggressive campaign.
Lord Faris, the daughter of retired federal judge Miles Lord, got into the race on the afternoon of the July 15th filing deadline. She said she was convinced Franken was unelectable because of his past as a comedian and she took her concerns to the television sets of Minnesota voters.
Lord Faris aired a series of commercials, introducing herself to Minnesotans and explaining why she believes Franken can't win in November.
"No matter how many millions he spends, it is clear that his history of pornography, degrading women and minorities and his questionable financial transations will continue to be the focus on blistering Republican attack ads," Faris said in a campaign ad.
Republican Norm Coleman ended up using portions of Lord Faris's commercials in his own ads ripping Franken.
Minnesota DFL Party Chairman Brian Melendez said despite the tough rhetoric Franken does not enter the final stretch of the campaign wounded.
"I don't think that it did any lasting damage to Al," Melendez said. "I mean Priscilla Lord Faris was using the same tired talking points that Norm Coleman and the Republicans have been trying to use throughout the race. Al has tried to keep this race very issue based."
Republican Senator Norm Coleman had just one GOP primary challenger, Jack Shepard. Coleman easily defeated Shepard who's currently living in Italy.
Like the Democrats, the Independence Party had a wide field of candidates. But unlike the DFL, who went with their party's endorsed candidate, IP primary voters chose challenger Dean Barkely who handily defeated IP endorsed candidate Stephen Williams.
Many Minnesotans know Dean Barkley's name.
Governor Jesse Ventura appointed Barkley to fill Paul Wellstone's Senate seat following Wellstone's plane crash death six years ago. In claiming the IP primary victory Barkely promised to become even better known.
"I guarantee you that I will give them hell when I get in those debates and I'm going to call them to the table for what they've done and what their two party system is doing and let's see what happens," Barkley said. "I think we can shock the world a second time every ten years or so it's time to do that so thank you very much."
Carleton College political science professor Steven Schier said Al Franken would have been in a much stronger position had Barkley not won the Independence Party primary.
"In opinions polls, Barkley is getting as much as 8 percent of the vote and if you look at the internals of his support, more of that is coming from potential Franken voters than potential Coleman voters," Schier said. "That's a real impediment to Al Franken."
Barkley has almost no money relative to the tens of millions Franken and Coleman have raised. But Schier said as the IP nominee Barkley will be able to generate attention through participation in Senate debates between now and election day.