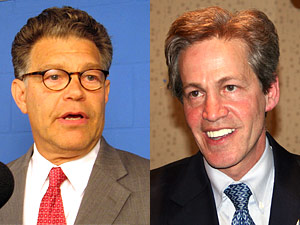 Polls are open across the state for today's primary election. At the top of today's ballot is Minnesota's U.S. Senate race.
Republican incumbent Norm Coleman faces a primary challenge from Jack Shepard. DFL-endorsed candidate Al Franken is being challenged by Priscilla Lord Faris and five other candidates.
Seven Independence Party candidates are also on the ballot, including Dean Barkley, Jack Uldrich and endorsed IP candidate Stephen Williams.
Supreme Court Justices Paul Anderson and Lori Gildea also face primary election challenges.
In the First Congressional District, Republicans Dick Day and Brian Davis are on today's ballot to run against DFL incumbent Tim Walz in November. Fifth district Democrat Keith Ellison and 6th District Republican Michele Bachmann also have challengers from within their own party.
Anyone can vote in today's primary, but you have to pick a party and can only vote for candidates in that party's primary.