Minneapolis City Council will not direct police evaluation of RNC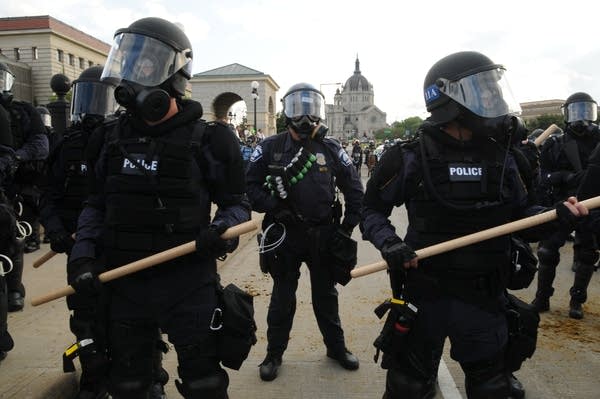 Minneapolis city officials say so-called 'After Action' reports about large events are common. 
Last week, Mayor R.T. Rybak and Council President Barb Johnson sent a memo to Police Chief Tim Dolan asking for information about all the major marches and protests in Minneapolis during the RNC.
During a meeting of the council's Public Safety and Regulatory Services meeting, Council Member Cam Gordon introduced a proposal that added a few items to the list.  
Gordon wanted to know about Minneapolis police participation in a series of raids before the RNC -- one of which occurred at a home in his ward. 
"There's some other issues I'd like some information on, and so I put them down here in the form of a staff direction, because I think that's completely appropriate," Gordon said.  "In fact, I think it's what I should be doing to do my job as a city council member - is to say, 'Here's the information I need as we go forward in the future and here's some specific things I'd like some more information about.'"   
But a majority of the committee disagreed with Gordon.  
Council member Paul Ostrow says Gordon's resolution implies that the police department may have done something wrong.  
"I personally don't see a need for council action," Ostrow said.  "I'm going to be blunt about this, because I know what the headlines are going to be, 'City Council calls for investigation of Minneapolis police department.'  We don't need an investigation of the Minneapolis police department when the Minneapolis police department is already saying they're moving forward on an After Action report." 
Police Chief Tim Dolan told the committee that so far, no RNC-related internal affairs or civil rights complaints have been brought against the department.  
But Dolan says he ordered an internal affairs probe of an incident caught on tape by a local tv news station, in which a young woman was repeatedly maced by officers.
The committee also voted down an attempt to send Gordon's resolution forward to the full council.  That means the remaining seven council members will not get a chance to influence the scope of the police after action report.
Gallery
1 of 1