World's fastest banjo picker calls Minnesota home
Johnny Butten grew up in the south of England, in a working class family. There wasn't much music in the house, until a new American TV show turned up on British television in the 1970s.
The Beverly Hillbillies had a fast-moving banjo in its theme song and that created some fans in the Butten household.
"My dad actually just heard the banjo going like crazy and so he managed to pick himself up an old banjo at a pawnshop," recalled Butten. "He sat and worked out all the bits and pieces and about six months later he's getting a tune and my ears perked up. 'Hey that's pretty cool.'"
Johnny Butten says he was about nine when he learned to pick the banjo by studying an Earl Scruggs lesson book and album. Scruggs became an inspiration.
Grow the Future of Public Media
MPR News is supported by Members. Gifts from individuals power everything you find here. Make a gift of any amount today to become a Member!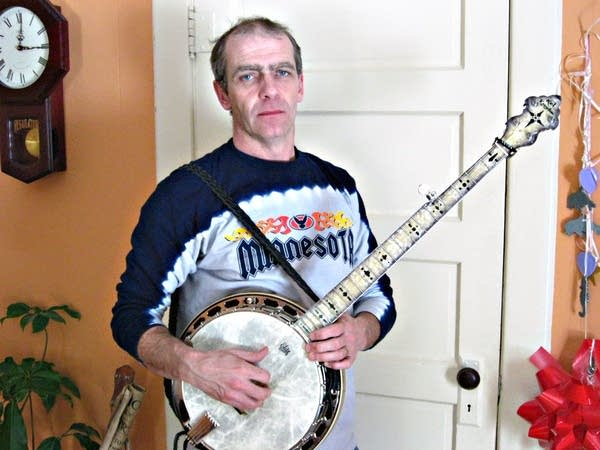 "He had two Cadillacs and a private jet and you know at nine or ten years old just learning to pick a banjo I thought, 'This dude has all this stuff from playing one of these? I'm in,'" Butten remembered with a laugh.
By the time he was a teenager, Butten made a name for himself in the European country and bluegrass music scene.
Now, fast forward to 2007.
That's when Butten learned an American banjo player, Todd Taylor, had just set a speed record by picking a tune on the banjo at 210 beats per minute.
"I went down to the basement and started picking." said Butten. "I think I was there four or five hours and I came running up the stairs screaming and shouting, 'I can do 210. I can do 210!'"
That success convinced him to chase the world record. His record-setting performance, timed by a metronome, hit 260 beats per minute.
"Fast cars, fast motorcycles, anything to do with speed, I'm there," Butten said with a twinkle in his eye. "Sometimes I'll sit in a corner and just go nuts, play something really stupidly fast you know, kind of come out of it with a big proud smile like a three year old kind of, 'Hah, whataya think of that?'"
Setting the record at a bluegrass festival in England was something of a lark. But when the world record video was posted on You Tube, Butten got a call from a music agent, in of all places, Fargo, North Dakota.
He wanted to know if Butten would like to work on some recording projects in the U.S.
Butten spent a few weeks working in the Fargo studio and in Nashville. The agent suggested he move to the U.S.
Butten said it took some work to convince his wife Sammy, but they bought an old farmhouse a few miles from Hawley, Minn., over the internet. Then, they packed three kids, two dogs, five cats, 15 suitcases and all of his instruments on a plane to Minneapolis.
"I love Midwest people. I love the area. It's just absolutely awesome," Butten said. "As soon as I got a sniff of coming back to do some work in America and it's in the Midwest, I'm sitting on the nose of the plane. I wanna be the first one in. We had people coming up the drive for days after we first moved in with doughnuts, or coffee or a picture or a plate."
Since arriving a year ago, Johnny Butten has released a solo album, and assembled a new bluegrass band, the Newgrass Underground, which recently recorded its first album. He's planning to take the band on a European tour later this year.
He travels to Nashville every couple of months and does work in Fargo Moorhead and Minneapolis.
While the the banjo speed record gives Butten bragging rights, he syas it also makes him a better everyday banjo picker.
"It certainly makes for smoother playing on a regular gig because you're so used to your brain being able to function at that speed," he explained. "To play what would normally be a fast tune, just seems like second gear. Just trucking along and you have more thought time because you've been used to thinking at a much higher speed."
Guinness recently retired Johnny Buttens banjo speed record and established a new category. Players are now required to pick a much more difficult tune at high speed.
Johnny Butten recently made his first run at the new record. He's waiting for confirmation from Guinness.
Meanwhile he's staying busy practicing the fiddle, mandolin, bass, guitar and of course the banjo which remains his favorite instrument. "Somebody once said you can't play a sad tune on a banjo," said Butten. "It's a bright sparkly kind of sound. I mean there's bluegrass writers that have written stuff that's a kind of mournful, haunting sound. But as soon as that banjo comes in everybody is like, 'Whoa, this is really cool, y'all really happy now.' I mean it's not funeral music."
Gallery
1 of 2
2 of 2