Medtronic cutting jobs, defending product, disclosing payments to docs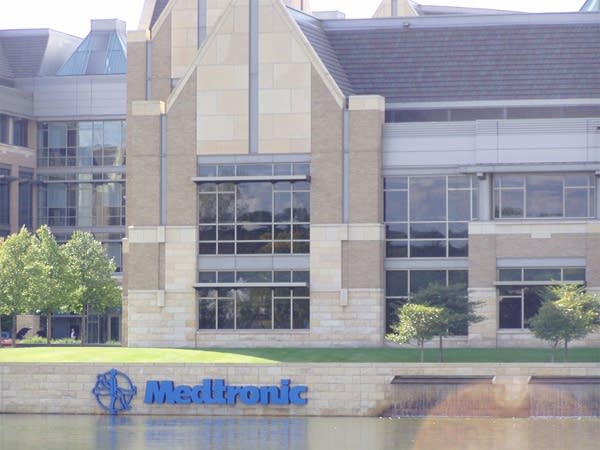 A newly published study by two Minnesota cardiologists finds accelerating problems with Medtronic-produced defibrillator wires implanted in heart patients. Problems forced Medtronic to pull that product off the market. And, the company announced Tuesday that it will begin disclosing payments to physicians. That move may help stem criticism that Medtronic has not been forthcoming about its relationship with doctors.
Cardiologists from the Minneapolis Heart Institute and the Mayo Clinic conducted the study that found a comparatively high failure rate in a Medtronic product called the Sprint Fidelis lead. It's a wire that connects a patient's heart with an implanted defibrillator that can deliver a shock to stabilize an irregular heartbeat.
Medtronic recalled the lead in 2007 after more than 600 failures were reported. The failures were potentially linked to the deaths of five patients.
The new study published in the journal HeartRhythm finds that as they age, the leads become more likely to fracture or otherwise fail. A majority of the failed leads in the study by Doctors Robert Hauser and David Hayes caused the patients to endure high-voltage shocks that the authors say are potentially lethal.
The study looked at how the leads are working three years after they're implanted. Of the leads made by other manufacturers, 98 percent were still working, while only 88 percent of Medtronic's leads were working.
Medtronic questions the findings, saying its data -- based on a much larger sample -- found more than 95 percent worked after three years.
Before you keep reading ...
MPR News is made by Members. Gifts from individuals fuel the programs that you and your neighbors rely on. Donate today to power news, analysis, and community conversations for all.
The editor-in-chief of HeartRhythm, Douglas Zipes, said the new research is important but will not change the treatment approach, which is to monitor how the devices are working and surgically remove them only if there is a problem.
Zipes has been a consultant to Medtronic.
He said the increased failures of the Medtronic leads need to be considered in context.
"Without a defibrillator, if you're at risk for having this life-threatening heart rhythm problem called ventricular fibrillation, your risk of dying is close to 100 percent," Zipes said. "With the defibrillator, your risk of living is close to 100 percent. So we need to put this in perspective."
Medtronic has also been under pressure recently over concerns that the company is not forthcoming about its relationships with physicians. In 2006, the company -- without admitting wrongdoing -- paid $40 million to the Justice Department to settle allegations that it had paid doctors to use Medtronic products.
Now Medtronic plans to begin disclosing its payments to doctors in consulting fees, royalties, or honoraria. The company will only make the disclosures, though, once payments to an individual doctor have reached the $5,000 threshold.
Company spokesman Steve Cragle said Medtronic feels collaboration between doctors and medical industries is essential to developing innovations in health care.
"We feel that it's in the best interests of everybody to be very transparent about the relationships we have with physicians and to disclose monetary sums associated with that," Cragle said.
Critics of Medtronic's relationships with doctors have included U.S. Senators Charles Grassley (R), Iowa, and Herb Kohl (D), Wisc. They drafted legislation that would require medical device makers to disclose physician payments of $500 or more, one-tenth of the threshold that Medtronic has set for itself.
Gallery
1 of 1