St. Paul chooses Lowertown building for LRT garage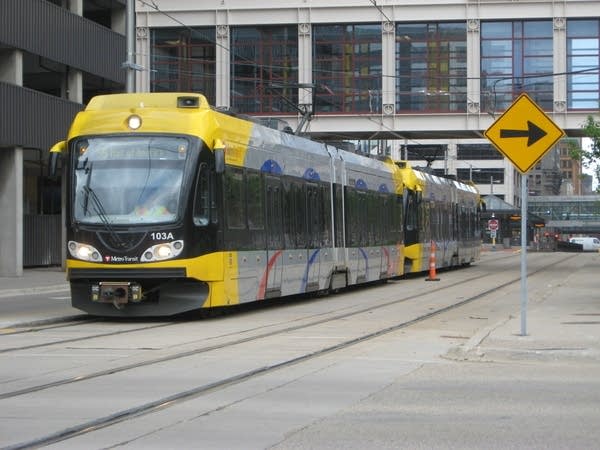 The St. Paul City Council has approved the use of an empty Lowertown building as a light rail maintenance facility.
The decision was made last night despite the protests of Lowertown residents who say the train garage will seriously mar Lowertown's appeal as a neighborhood.
The building in question is the Diamond product warehouse - a huge white structure located right next to the St. Paul Farmer's market.
It wasn't the Met Council's first choice for a facility, but other sites proved either too costly or too difficult to convert into usable space. So, in November, the council started exploring the Diamond building.
St. Paul City Councilor Dave Thune says what irks him most is that the St. Paul City Council, and neighborhood residents, weren't informed of the switch until late in the game.
If it's going to go in our neighborhood, then they really owe it to us to make it fit.
"We're willing to sacrifice the future of our downtown, the most successful part of our downtown, the part of our downtown that so many people have invested in themselves, so that we can make it a little bit cheaper and a little bit easier, and because we made a little change three months ago that for some reason the planners can't correct," Thune said.
The second runner up was a plot of land down by the river owned by Ramsey County, which has proved to have some problems with soil contamination and flooding.
An environmental assessment of the land would mean adding several months and several million dollars to the light rail construction schedule and budget.
Click here to see a map of the Lowertown area affected by the Central Corridor project.
Council member Lee Helgen said he wants to see the Central Corridor project underway as soon as possible, which will create more jobs and put more money into the economy:
"My big concern has really been at the billion-dollar level. Do we get it done, do we connect, does our community move forward as part of the connected transit network, and I think today that's where we ought to be at," Helgen said. "I certainly respect the work that you've done in the neighborhood and if this was a neighborhood issue I'd be really inclined to want to defer but at this point we're all being asked to make a decision on the billion-dollar line."
The Lowertown neighborhood as a whole has seen a lot of growth over the years -- pigeon infested warehouses have been turned into swank condos. Michael Heelan lives in one of those buildings, what's now known as Great Northern Lofts.
"Our biggest concern was we moved in to Lowertown because there was a vision, and they had worked arduously over the past 25 - 30 years to create this residential artists community in Lowertown," he said.
Heelan said the decision to use the Diamond building to save money is shortsighted. He said in the long run more money could be generated from property taxes with the creation of housing and businesses in the neighborhood.
Artist Robyn Priestley has a studio in the Northern building, which will be just feet from the facility. The Northern is home to artist apartments, a restaurant, a coffeehouse, a small musical theater company, and a zen mediation center. Priestley served on a committee that did a land use study for the Diamond Building under former St. Paul mayor Randy Kelly. "The conclusion was that this Diamond Products building would best serve the community if it had been turned into housing into a mixed use housing and commercial space, and definitely not as a light industrial or industrial space," Priestley said.
But, no developer has put forth an offer to convert the Diamond building into housing. St. Paul City Councilor Pat Harris says he's not too worried about the future of the Lowertown neighborhood. He said it's had an industrial past, and that didn't stop people from living there.
"Lowertown was successful then with a lot of small businesses and it's successful now for a different reason," Harris said. "And I think what's defined Lowertown is that a lot of different things have been able to succeed there and work together."
As part of the decision to move forward with the light rail maintenance facility, the St. Paul City Council has created a memo of understanding with the Metropolitan Council - a document that will guide the construction process.
In the memo, the parties agree they will do their best to design the building so that it fits in with character of the neighborhood, create minimal disruption to the farmers market, and mitigate any late night noise that could disturb the locals.
Heelan said that was the least they could do.
"If it's going to go in our neighborhood, then they really owe it to us to make it fit," he said. "The vision of the big white building just doesn't make it - and so you're going to put a bi-fold door in front so you can drive a train in it? I don't find that terribly exciting."
The council may have approved the use of the Diamond Building, but it still has to buy it -- a process that could be complicated.
The building and the land it stands on are owned by two separate entities.
Gallery
1 of 1