No more WorldPerks from U.S. Bank
Minneapolis-based U.S. Bank has long provided the Visa credit card tied to the Northwest WorldPerks frequent flier program. It's been an extremely popular card for people who regularly fly Northwest at the Twin Cities Airport.
But American Express will be the credit card provider for the frequent flier program that'll serve the airline formed by uniting Delta and Northwest. That relationship was firmly cemented in December after American Express bought $1 billion worth of miles from Delta and added $1 billion in contract sweeteners.
Now, American Express and U.S. Bank are battling each other to recruit WorldPerks credit cardholders. Both carriers are offering consumers goodies such as first-year fee waivers and bonus miles.
American Express touts its card as the only way to combine miles earned by spending with miles earned by flying Delta. That appealed to Joseph Olson of St. Paul has. He signed up for the American Express card.
"It just seemed like a pretty good deal," Olson said.
He got a nice signing bonus.
Before you keep reading ...
MPR News is made by Members. Gifts from individuals fuel the programs that you and your neighbors rely on. Donate today to power news, analysis, and community conversations for all.
"I think it was basically a free flight anywhere in the contiguous United States," he said.
Meanwhile, U.S. Bank hopes WorldPerks credit cardholders will switch to the bank's new FlexPerks travel reward card.
U.S. Bank says travelers can pocket a ticket after racking up just 20,000 miles, compared with a requirement of 25,000 miles for the American Express card. And, U.S. Bank says travelers will be able to fly whenever and wherever they want on some 150 airlines.
Katie Sanders, a Minnesota native now living in New York City, likes the idea of earning tickets faster --and hopefully getting them more readily.
"I would rather get a ticket for fewer miles with no blackout dates and so forth," Sanders said.
Northwest, Delta, U.S. Bank and American Express won't say how many people carry the WorldPerks Visa credit card. Estimates have ranged from about one million to four million, with the majority of cardholders living in the Twin Cities and other Northwest hub markets.
One thing for sure though, theses are the kind of people credit card issuers truly love. They're willing to pay hefty annual fees for reward cards; $50, $100 or more. Card issuers also get a slice of all the charges people put on the cards. Many cardholders run just about everything they can through the cards, trying to maximize mileage rewards.
In a regulatory filing late last year, U.S. Bank said it expected any changes to the WorldPerks credit card program wouldn't make much difference to its bottom line. In fact, it's hoping to do quite well with its successor card to the WorldPerks card. It hopes to retain most folks who've carried the WorldPerks credit card.
U.S. Bank argues its successor card to the WorldPerks Visa card provides much better benefits and greater payoffs.
"When you want to fly, you can fly," said Bob Daly, vice present for retail payment solutions at U.S. Bank. "If people take the time to evaluate the value proposition, that is, how quickly can [they] earn these points and miles and how readily [they are] able to redeem them, we really don't have any reason to believe they'd do anything other than stick with us."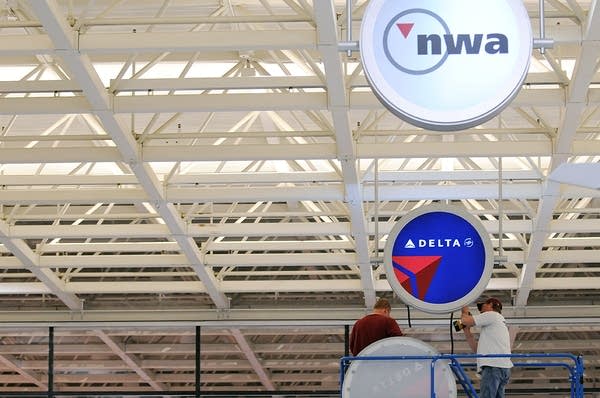 By early July, U.S. Bank will mail new FlexPerks cards to nearly every person who holds a WorldPerks card. WorldPerks cards will be turned off by late August.
Daly said folks who continue with the new U.S. Bank card will keep the credit card numbers that they had with their WorldPerks cards. That means, for instance, they won't have to change automatic payments tied to their cards, such as phone or cable TV bills.
Folks switching to the U.S. Bank card won't lose any miles they've earned flying Northwest either. Those miles will be transferred to a SkyMiles account with Delta.
But consumers packing the new U.S. Bank travel card won't be able to use the card to add to their Delta frequent flier miles.
David Rabkin oversees the Delta credit card portfolio for American Express. He expects most WorldPerks credit cardholders will want to combine miles earned by flying with miles earned by spending.
"What we're going to ask card members is: 'Why would you want to start over?'" Rabkin said. "You're going to have a great experience on the airline. Now that it's literally the world's largest, you can fly anywhere you want to go and you can take your points bank and combine it."
David Robertson publishes the Nilson Report, which tracks the payment card industry. He suspects leisure-oriented travelers will gravitate toward the U.S. Bank card, which seems to provide tickets sooner and on more airlines. Meanwhile, he thinks road warriors who want to maximize their mileage awards will go for American Express.
"Amex will be using whatever business intelligence it has to identify business travelers and make sure that person knows American Express might be able to do other things for them that could be travel-related and increase the value of the card relationship, be it with hotels, restaurants, whatever," Robertson said.
But no matter which group a WorldPerks credit cardholder falls into, he or she will truly feel wanted in coming months, as American Express and U.S. Bank try to slip new credit cards into their wallets.
Gallery
1 of 1