35W bridge memorial making slow progress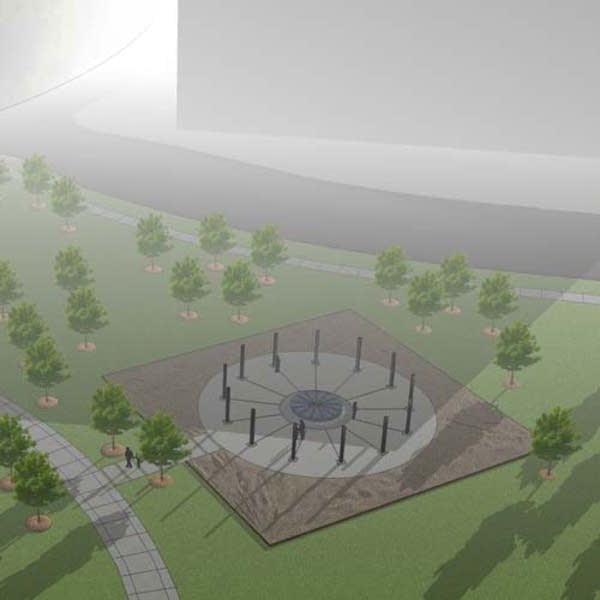 Nearly two years after the Interstate 35W bridge crumbled, a proposed memorial to the 13 people killed in the collapse has barely moved from the drawing board.
Planners are only one-fifth of the way toward a $1 million fundraising goal, the project lacks full city clearance and the final design is still being tweaked. Completion before 2010 looks doubtful.
That progress is slower than expected for Valerie Redanz, who is raising her two grandsons after their mother, Julia Blackhawk, died in the Aug. 1, 2007, collapse.
Redanz, of East Falmouth, Mass., says she was told last summer that a memorial would be in place when her family returned to Minnesota for this anniversary.
Redanz wouldn't say who told her the memorial would open in August other than to say it was an official who had been her liaison on bridge matters since the collapse. She said she was disheartened to learn that wouldn't happen.
"It makes me feel good that Julia will be remembered in such a significant way by that whole city," said Redanz, who saw the renderings last year. "I showed my grandsons and they really just smiled. It would really mean so much to them to have their mother remembered like that. I hope there's not a problem with it."
Gain a Better Understanding of Today
MPR News is not just a listener supported source of information, it's a resource where listeners are supported. We take you beyond the headlines to the world we share in Minnesota. Become a sustainer today to fuel MPR News all year long.
Government officials say they aren't behind schedule because they never set one, either publicly or privately, with victims and their families.
Delays in erecting memorials aren't unprecedented; it took eight years to put up a $2 million memorial to victims of the Columbine shootings.
Democratic Mayor R.T. Rybak and Republican Gov. Tim Pawlenty revealed the design for the memorial they have been jointly planning last September as they declared the newly built 10-lane bridge ready for traffic.
The design called for a bubbling fountain surrounded by 13 upright I-beams, each engraved with the name of one of the victims.
It would be erected in nearby Gold Medal Park, a leafy expanse near the Mississippi River on the eastern fringe of downtown Minneapolis.
"You want to honor people and get something in the ground, but you don't want have a hurried process end up offending anyone."
Rybak said construction would begin when the 35W Remembrance Garden fund had reached $1 million -- $750,000 to build it and $250,000 for long-term upkeep.
"We are committed and dedicated to make that a fundraising success and reality in the coming weeks and months," Pawlenty assured those in the audience, which included people injured in the collapse.
But the effort began just as the nation's economy nose-dived and overall charitable giving fell off -- what Rybak spokesman Jeremy Hanson called "the worst environment possible to raise money for an effort like this."
As of Tuesday, Pawlenty spokesman Brian McClung said the fund had around $200,000 in it. Hanson wouldn't confirm that figure.
Hanson said a finance consultant was brought aboard within the last two months to help round up donations.
Pawlenty acknowledged in an interview Wednesday that the project was off to "a little bit of a slow start," but said he had recruited two people to co-chair fundraising and expected their names to be announced soon.
"I think you'll see it catch a little bit of a tailwind now," Pawlenty said.
Erica Prosser, the lead mayoral aide on the project, said planners decided to seek private dollars instead of public money because "to be meaningful we all felt the community needed to be engaged in building it."
Prosser also said the design hasn't been finalized. She expects more meetings with collapse survivors and first responders to the disaster to settle on the wording used in descriptive portions of the memorial.
The pace of the project contrasts with work on the $234 million replacement bridge, which went up in less than 14 months. The quick rebuild earned the contractor a $25 million bonus.
That doesn't sit right with Rep. Ryan Winkler, a Democratic legislator who helped establish a compensation fund for collapse victims who agreed not to sue the state.
"The longer time goes on the more the sense of moving on and wanting to forget will set in," said Winkler, of Golden Valley. "So I think there is some urgency to raising the funds to dedicate that memorial."
Mary Altman, the public arts administrator for Minneapolis, said it's common for a few years to pass between when a project is announced and its completion because of the necessary fundraising, permits and construction.
The Minneapolis city council ultimately will be asked to sign off on the memorial, Altman said, but questions remain about whether the city or the nonprofit foundation that leases the park will own the memorial. She said planners are wise to take their time.
"It's a very emotional type of project," she said. "At the same time you want to honor people and get something in the ground, you don't want have a hurried process end up offending anyone."
(Copyright 2009 by The Associated Press. All Rights Reserved.)
Gallery
1 of 1