Few details in death of North St. Paul officer
Investigators are still piecing together details of how a police officer and another man were shot and killed Monday morning as police responded to a domestic dispute in North St. Paul.
Officer Richard Crittenden, 57, was shot around 8:30 a.m. at the Aspen Village apartment complex at 2253 Skillman Ave. in North St. Paul.
Police had received a call that a man was violating a court order to stay away from a woman.
At the scene, officers struggled with the man, identified in news reports as Devon Dockery, who was also shot and killed.
Grow the Future of Public Media
MPR News is supported by Members. Gifts from individuals power everything you find here. Make a gift of any amount today to become a Member!
A Maplewood police officer providing assistance to Crittenden was wounded. She was treated at an area hospital and released.
According to the North St. Paul police, Crittenden was a nine-year veteran of the department, and had also served in the U.S. Army.
Crittenden had also worked four years as a Wabasha County sheriff's deputy, and as an enforcement officer for the Hennepin County Parks Department.
Devon Dockery had a long history of domestic abuse, and had previously threatened to kill himself and his wife, according to court records.
Stacey Terry, his wife, had filed three orders for protection against him over the past nine years.
The first order for protection was filed in 2000 in Washington County. In November 2002, Dockery was convicted of terroristic threats.
In April 2003, Terry filed another emergency order for protection against Dockery. In the handwritten affidavit, Terry reported that her husband held a gun to her head and threatened to shoot her and then shoot himself.
"Devon is a ticking time bomb ready to explode," Terry wrote.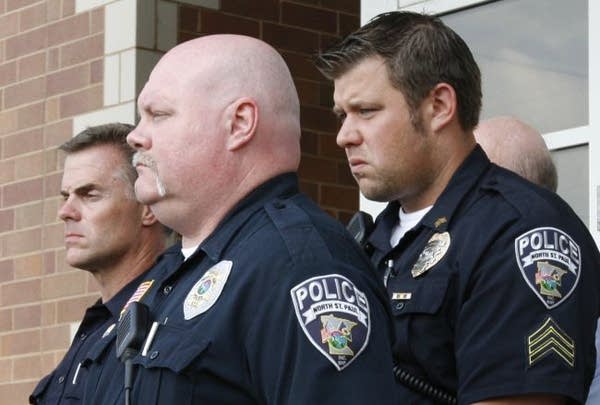 In April 2004, a jury found Dockery not guilty on a charge of second-degree assault in connection with the incident, but the jury found him guilty of possession of a firearm by an ineligible person. As a convicted felon, Dockery was barred from possessing firearms.
Dockery was sentenced to five years in state prison.
Terry filed another order for protection against Dockery in May 2009. In the affidavit, she alleged that Dockery asked her for money to repair a tire on her car.
"He stated if I didn't, he would break me and everything else in my apartment," Terry wrote.
The next day, Terry alleged that Dockery locked her in her bedroom, "stated he will kill me," and told her, "The next time I point a gun at you, I'm gonna use it."
Dockery was arrested on August 26 on charges of violating the order for protection.
Police officials did not release many details of the incident pending further investigation. Officials say they'll release more information Tuesday after autopsies are performed at the Ramsey County Medical Examiner's office.
North St. Paul Police Chief Tom Lauth said in the last two weeks, police officers responded twice to the same address regarding violations of a protection order. The last call came Sunday, and the previous one was 12 days ago. The suspect wasn't at the residence when officers responded to those incidents.
Lauth said that the shooting was a reminder that "life changes in an instant."
"Domestic disturbances are probably one of the more familiar calls that we have that we respond to," he said. "Unfortunately, we respond to so many of them, we may develop a certain nonchalance ... because we do so many of them."
Lauth said North St. Paul has never had a police officer killed in the line of duty.
"This is a man who gave his life. He made the ultimate sacrifice in protecting others," Lauth said. "I can't say more than that. There's no higher honor there."
North St. Paul City Council member Jan Walczak said her city's close-knit police department only has 18 members.
"The officer was so well-known and so well-loved, I just -- it's going to be real hard," she said.
The Minnesota Bureau of Criminal Apprehension is overseeing the investigation. BCA spokesman Dave Bjerga said there's still investigating to be done.
"All I can say, actually, is that it was chaotic. It happened quickly," he said. "This was not the first call to this particular apartment in regard to domestic situations. These domestic situations are sometimes the most dangerous for officers to go into, and in this case, that is exactly what happened."
The Ramsey County Sheriff's Department took over patrols in North St. Paul Monday night and this morning, giving North St. Paul officers a chance to rest and collect their thoughts.
The loss was felt throughout the law enforcement community.
Meeker County Chief Deputy Brad Lindgren was the police chief of St. Joseph on Jan. 29, 1996 -- the date one of his officers, Brian Klinefelter, was shot and killed while trying to arrest robbery suspects.
"For citizens of that community it's like losing a good family member, whether it be a brother or cousin or something of that nature," he said. "Then for the citizens and officers it's almost like an extended family member has died, and you have both been at the funeral together, there's that kind of a connection."
According to the Officer Down Memorial Page, a non-profit that tracks police fatalities, this is the first Minnesota officer killed by gunfire in the line of duty since Sgt. Gerald Vick was killed in 2005.
Gallery
9 of 9
1 of 9
2 of 9