The lingering lure of "Into Temptation"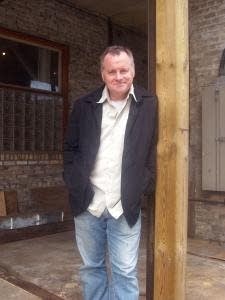 [image]
Minneapolis film maker Patrick Coyle says he doesn't know what it is, but "Into Temptation," the small budget film he wrote, directed, and acted in, seems to have grown legs. The film's run at the Lagoon Theater in Minneapolis has just been extended again.
"I had to use all my powers of persuasion to get one week," he says. "And it's turned into five and going strong."
The film follows a young Minneapolis priest as he tried to find a young woman who comes into the confessional to ask for absolution for a sin she has yet to commit. She says she is going to kill herself on her birthday, but then runs out of the church before he can identify her.
MPR News is Member Supported
What does that mean? The news, analysis and community conversation found here is funded by donations from individuals. Make a gift of any amount today to support this resource for everyone.
The film has now screened in Minneapolis, New York, Los Angeles, and Coyle's hometown of Omaha. He says the film seems to hook people, and not only do they encourage their friends to see it, they appear to be coming back to see it again.
"The gratifying thing is it's not just Catholics," Coyle says. "It's kind of cross-demographic. Age and gender and religion. So I don't know. It's really fun. That's all I know for sure, it's really fun," he laughs.
"I do think that people are hungry for a story that resonates truthfully with people you care about, that speak in complete sentences."
The big numbers in Minneapolis and Omaha have apparently attracted the attention of First Look the film's distributors, and the Landmark chain, so plans are already underway for runs in other cities, including Duluth and Fargo.
"We don't have national release, but we are going city by city, and we are trying to get to as many cities before the DVD comes out."
Coyle describes it as a race against time, because that release date is October 27th. It's been a busy time for Coyle because even as he is pushing his film, he also plays Lou Grant in the Torch Theater production of "The Mary Tyler Moore Show," which has also become a hit.
Coyle was speaking to me from Omaha where he is scheduled to introduce the film tonight. "Into Temptation" smashed the Dundee theater's box office record over the weekend.
"They grossed more Friday, Saturday and Sunday at "Into Temptation" than they ever had at this theater and it's been open since the Depression," Coyle says. He admits his family publicity machine has probably helped, but now word of mouth has taken over.
Coyle admits he is mystified as to what the secret is behind the films success.
"One day I might understand it, but I don't now. People see it, they love it and they are telling people about it."
Which makes it a challenge to recreate for his next project. But Coyle is happy that this success improves the chances that will happen.
"I love film making, and think this is definitely going to get me to my next project, and that makes me very happy," he says.
The run at the Lagoon is now scheduled to end on October 1st, but Coyle says he is looking into screenings at other theaters in the Twin Cities.