Architects another victim of real estate downturn
The state's architects, victims of the crisis in the real estate industry that you don't hear much about, have seen steeper employment declines than the overall job market. With commercial and residential real estate still suffering, those high-paying architecture jobs may not return anytime soon.
Architects are trained to use space efficiently, so you know something's wrong when you see rows of empty desks at the UrbanWorks Architecture firm in Minneapolis.
The firm's president, John Hamilton, during a recent a tour, pointed to a cluster of computer monitors that sit collecting dust.
"Here we have our little computer farm," Hamilton said.
Grow the Future of Public Media
MPR News is Member supported public media. Show your support today, donate, and ensure access to local news and in-depth conversations for everyone.
The workers who once designed buildings on those computers have been laid off. The company's staff has shrunk by about half, down to 16 now.
Companies in all kinds of industries have slashed workers. That made vacant space balloon and put a crimp in the need for new commercial buildings. Vacancies in apartments shot up, too, hurting another important source of design work for UrbanWorks.
On top of that, Hamilton said, tight credit scuttles projects he thinks could go forward.
"There's lots of requests and in fact demand for design services," he said. "There's just no money available to pay for it."
These troubles are pushing architecture employment in Minnesota on a steep downhill path. According to the most recent data available, the state's overall employment fell 3.3 percent between the first quarter of 2008 and the same period this year. By contrast, the number of jobs in architectural services plunged a whopping 13 percent.
"So you see that's a much sharper decline than the economy overall," said Oriane Casale, a labor market analyst at DEED.
Casale said the architecture industry in Minnesota is small; it only employs about 3,900 people. Its employment levels tend to be very sensitive to economic ups and downs.
But the work is well paid. In the first quarter of 2009, architectural service jobs pulled in $1,200 a week on average.
"This is quite higher than, for example, the average weekly wage of $882," Casale said.
The federal stimulus package doesn't offer much hope for the architecture industry because the funds are not geared toward stimulating new building construction.
So, laid-off architects are looking to other sources of work, like rehabbing existing buildings for new purposes.
"In these times, probably more buildings are being reused than just torn down and redeveloped as new," said architect Wesley Pfeifer.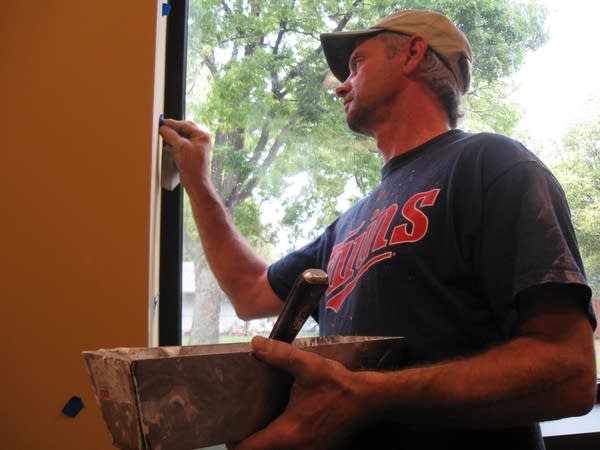 Pfeifer was laid off from a job at UrbanWorks last fall. He got temporary work helping to redesign an old strip mall for use as a University of Minnesota community outreach center.
Pfeifer said he was glad to have the work on the U of M project, even though it only lasted two months.
"I think I'm doing well, considering the circumstances. I know people who are unemployed and not working at all," Pfeifer said.
When Pfeifer can't find jobs like this, he takes care of his two young daughters at home. His wife still has her job with a real estate developer.
Architect Chuck Levin hired Pfeifer for the U of M job. He said the university work kept his small company going during its own lean times and he'd like to be able to hire Pfeifer full time. But that likely won't anytime soon.
"I'm not optimistic there is going to be, all of a sudden, a big boom," Levin said. "We're all rethinking the way we spend our money, how much we hold onto, and how much we let go of. I think people are just going to be way more thoughtful about the investments they make in their buildings."
Meanwhile, Wesley Pfeifer is rethinking his expectations about employment. He's reluctant to abandon architecture after 12 years of experience and believes jobs will come back, but he's not banking on job security.
"I don't know, even if I get what I would term a 'permanent job,' how long that going to last," Pfeifer said. "Things are going to be rocky for a while. You have to expect that you can't expect anything, I guess."
Pfeifer once designed condos and apartments, but for now, he's scaling back his ambitions; he's putting in a proposal to redesign someone's bathroom.
Gallery
1 of 1