Ring dike program will protect more than just farms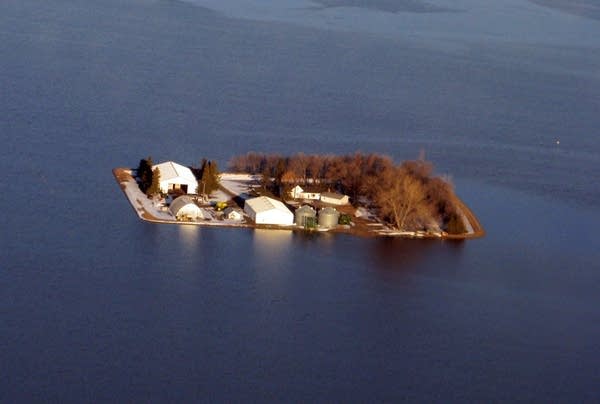 More than $4 million will pay for ring dikes around farmsteads in the Red River Valley, but flood protection is only a secondary goal for the federal program.
Ryan Gilbertson farms land near Ada that's been in his family for three generations. The farmstead is about a quarter mile from the Wild Rice River, so spring floods are a part of life.
"I got a cattle shed down there, it's usually three or four feet up on the cattle shed," Gilbertson said. "Comes around the farm too and backs up in here. It was only three feet from my house here. It just seems like the last few years, ever since they've been rerouting water and putting levees up, it's been getting worse here."
But Gilbertson will no longer need to worry and fill sandbags in the spring. The farm buildings are now surrounded by a nearly completed dike about six feet tall and nearly a half mile long.
Grow the Future of Public Media
MPR News is supported by Members. Gifts from individuals power everything you find here. Make a gift of any amount today to become a Member!
"Now I'll be able to store all my equipment in the yard, where some of the tillage equipment would get flooded out and I'd have to repack wheel bearings or replace wheel bearings every spring if it flooded," Gilbertson said. "It's definitely going to help, I can tell you that."
The ring dike cost $63,000, but Gilbertson will pay only $8,000. The federal government pays 75 percent of the cost, and the Wild Rice Watershed district covers half of Gilbertson's 25 percent share. He said it's the only way he could afford to build a dike.
Federal funding for the Red River Valley ring dike program this year totaled nearly $4.4 million through the Environmental Quality Incentives Program and the Agricultural Water Enhancement Program.
The state of Minnesota also has about $500,000 available to help pay for ring dikes, through the Board of Water and Soil Resources and the Department of Natural Resources.
North Dakota allocated $400,000 in June and the State Water Commission is expected to approve another $400,000 next month because of the high number of applications.
The federal program pays 75 percent of the cost while the state programs typically pay 50 percent.
Bill Hunt, Minnesota's state conservationist for the USDA, said the real goal of the ring dike program is to improve water quality.
Many farmers store a variety of chemicals and have diesel and gasoline storage tanks for farm equipment. The ring dike eliminates the risk of those pollutants getting into the river during a flood.
Hunt said ring dikes are a cost-effective way to reduce pollution and protect a farmer's assets.
"I've been here in Minnesota for 15 years, and it seems to be about 12 or 13 of those years we've had flooding in the Red River Valley," Hunt said. "If you get a foot of water outside the Red River, it goes for miles and miles and miles. Because it is so relatively flat, something like a ring dike can be very, very effective."
About 80 Minnesota farmers applied for the program, and about 170 signed up in North Dakota.
Ryan Gilbertson is glad his farm is protected against flooding. Instead of watching water creep closer across the flat farm fields next spring, the view from his front yard will be the back side of a dike.
"I'll sacrifice the view," he said. "That sandbagging gets to be a lot of work when you get older."
Ironically, a rainy October has delayed work on many of the ring dikes, so some farmers might need to wait until next summer.
Red River Valley watershed officials plan to make ring dikes for rural homes threatened by flooding a priority in a long-range flood mitigation report, to be presented to the Minnesota Legislature next year.
Gallery
1 of 1