A party for Sarah Palin at the Mall of America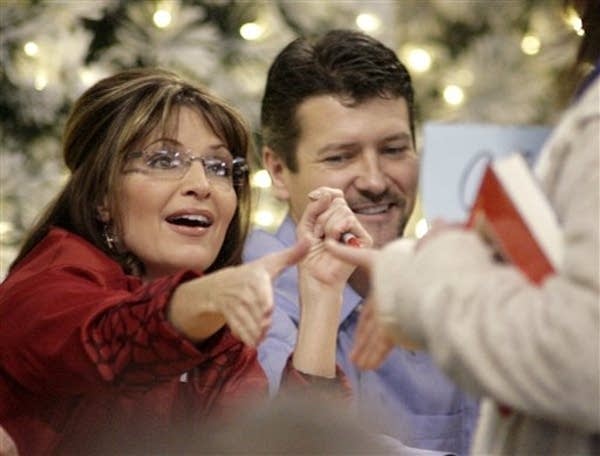 It was a Palin party at the Mall of America Monday. Former Alaska Gov. Sarah Palin was there for more than three hours to sign her new book, "Going Rogue."
Palin, who was the vice presidential running mate of Republican John McCain in the 2008 election, signed books for more than 1,000 people, some of whom urged her to run for office again.
People started arriving at the mall in the cold and dark, a full seven hours before the noon start time for Palin's book signing.
"This is better than Black Friday by far," said Darla Hathaway of Rosemount, who was first in line to meet Palin. She said she showed up at 4:30 this morning.
Grow the Future of Public Media
MPR News is supported by Members. Gifts from individuals power everything you find here. Make a gift of any amount today to become a Member!
"It's an extraordinary opportunity to meet her and to thank her for her book, and encourage her to keep going and run for president and be there for the people," Hathaway said.
As the hours passed, more people started lining up behind Hathaway. By mid-morning, the line was estimated at 800 people. An official with the Mall of America said 1,500 wristbands were given out, but couldn't say if all of those with wristbands would have their books signed.
Palin started signing books about 20 minutes before her scheduled start. She didn't address reporters or the crowd. Instead, she started signing books with workman-like efficiency.
This is just one of many stops Palin is making to promote her book, which has sold more than a million copies, and it shows. It worked like an assembly line, with Palin's husband Todd opening up each book for her to sign, as she mixed in small talk and a handshake for each person who met her.
Some of those in line said they already read the book. Others started reading it as they waited to meet Palin.
Many in the audience were casually dressed. But there was a Palin impersonator, a man wearing sweatpants that read "drill, baby, drill," and a husband and wife wearing matching shirts that said "Palin/Bachmann 2012."
That couple, Tom and Gae Magnafici, said they want to see Palin run for the White House with U.S. Rep. Michele Bachmann, a Republican from Minnesota's 6th District, as her running mate.
"I just think these would be the two people who can straighten out the country in 2012, because we're not getting the job right now," said Tom Magnafici.
Magnafici wasn't the only one hoping for Palin to run. Many in line said they would back her over Minnesota's own Gov. Tim Pawlenty, who hasn't ruled out his own run for president.
Steven Vigoren of Gilbert said he'd support Palin over any other candidate.
"I will vote for Sarah Palin anytime she's on the ballot. Pawlenty is good, but he's no Sarah Palin. She is so much better," he said.
Palin isn't just signing books while she's in Minnesota. She was also set to headline a high-dollar, private fundraiser for a conservative group called the Freedom Club.
Freedom Club spokeswoman Midge Dean said Palin agreed to attend a small gathering at a Bloomington hotel. Dean said people are being asked to give $5,000 to meet Palin, have a photo taken with her, and have her autograph a book.
"It's extremely important to us because she's a very popular person. And we wanted to raise money for our project this year, which is to get back [Republican] control the Minnesota House," Dean said.
Dean said her group paid a fee to have Palin appear at the event, but she would not disclose the amount. Palin has reportedly been asking for upwards of $100,000 for such events.
While Palin's supporters are excited about her Minnesota appearance, Frank Benenati with the Democratic National Committee said Palin is out of touch with most voters.
"While there may be long lines at some places on her book tour, including the Mall of America there, her ideals and what she represents are far from what mainstream Americans want in a political leader," he said.
Palin has said little about a possible run for the White House in 2012. But an appearance over the weekend -- when she signed books in Iowa -- could be a signal. Iowa is where the first presidential contest will be held in 2012.
Gallery
1 of 2
2 of 2