State gives money to help cities fight ash borer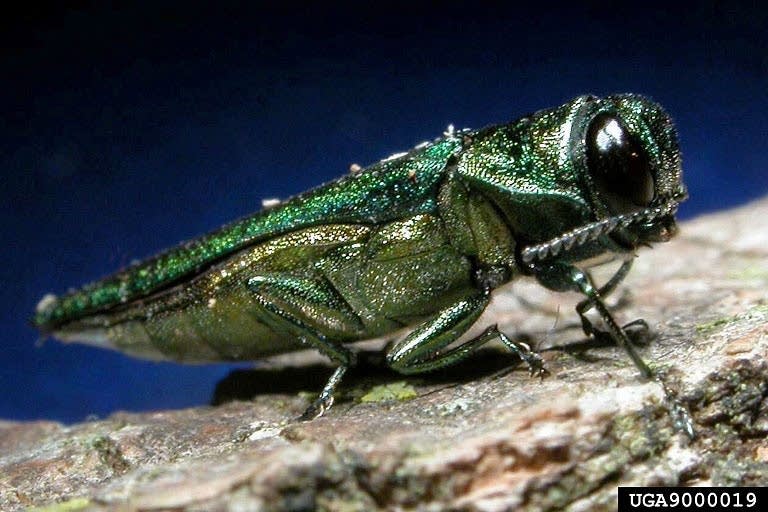 The Minnesota Department of Agriculture awarded $1.8 million in grants this week to fight the spread of the dreaded emerald ash borer.
The department targeted $1 million of the Forest Protection Reserve Grants to areas where the destructive beetle has already been discovered --- St. Paul, Falcon Heights, and the University of Minnesota-Twin Cities campus.
The emerald ash borer has destroyed millions of trees in the United States. The beetle's larvae feed on the inner bark of ash trees, and destroy the tree's ability to transport water and nutrients.
Minnesota has about 900 million ash trees, and department officials have cautioned that the infestation could quickly spread throughout the state.
The St. Paul Parks and Recreation Department plans to use its $722,600 grant to fund the removal of infected trees and implement a long-term strategy to manage the infestation. Emerald ash borer was first discovered in the city last May, and park officials have already removed more than 100 infected trees, mainly in the South St. Anthony Park neighborhood.
"This will be a long hard battle with this beetle, and the MDA recognizes that, and has acted accordingly by delivering this funding promptly," said Mike Hahm, director of the city's Parks and Recreation Department, in a statement released Friday.
"We weren't lucky to have this pest move in, but St. Paul will continue to lead the fight, and hopefully save our tree canopy while helping buy time for our neighbors to prepare for this devastating pest."
Other cities throughout Minnesota are bracing for possible infestation.
The department awarded $764,300 to fund preparedness efforts in 12 cities, including Minneapolis, St. Louis Park, Eagan, New Hope, Minnetonka, Cottage Grove, Blaine, Roseville, Rochester, Oakdale, Red Wing, and Oak Park Heights.
Several other groups also received prevention funding, including the University of Minnesota, East Central Energy, and the Minnesota Logger Education Program.
Gallery
1 of 1