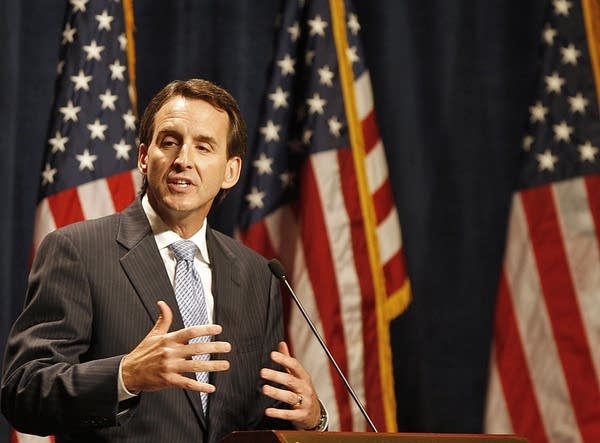 Minnesota contributors dominate the giving to Gov. Tim Pawlenty's federal political action committee.
Minnesota donors gave roughly two-thirds of the nearly $1.3 million raised by Pawlenty's Freedom First PAC in 2009. The list of donors is a who's who of Minnesota business leaders and includes the former and current heads of TCF Bank, Target, Cambria, Securian and Central Container; all gave to Pawlenty's PAC.
Corporate PACs, including Altria, Comcast, Qwest, Boston Scientific and Travelers Insurance also gave.
You can read the full FEC filing HERE
Pawlenty, who isn't seeking a third term as governor, launched his PAC in October to help elect Republicans across the country and discuss his vision for the Republican Party. The PAC contributed to a total of seven federal candidates in 2009.
Pawlenty has not ruled out a run for the White House in 2012 and said the fundraising totals won't affect his decision to run for president. Presidential hopefuls typically form federal PACs to lay the groundwork for a presidential run.
The PAC funds are distinct from those he would need to pay for a White House run. The leadership PACs often are tools used by politicians building toward runs for higher office.
Pawlenty said he's pleased with the fundraising, and thinks his message is gaining traction across the country.
"Governor Pawlenty has sort of been the stealth candidate."

Ross Baker, Rutgers University
"The purpose of the PAC is to try to have the opportunity to speak to issues that are challenging the nation, and hopefully ideas that will help address them," said Pawlenty. "Raising the money and having Web sites and having the ability to send out mail and support candidates that have good solutions for the country, I hope is a valuable thing for the 2010 elections. And the PAC is off to a good start."
Pawlenty has been traveling the country for fundraisers and campaign appearances since he announced in June that he wasn't running again for governor.
Pawlenty has visited visited 17 states, Washington D.C., Puerto Rico and six foreign countries since he announced he wouldn't seek a third term.
Pawlenty's filing shows he spent almost $400,000 during the three-month period that ended Dec. 31, making contributions to Republican candidates such as Scott Brown for his Senate campaign in Massachusetts, Rob Portman for his Senate bid in Ohio and others.
The PAC took in donations from 2,750 contributors. The maximum donation is $5,000.
Ross Baker, a presidential expert at Rutgers University in New Jersey, said Pawlenty's initial report suggests he'll be a player in the 2012 leadup.
"Governor Pawlenty has sort of been the stealth candidate. Every presidential cycle usually produces someone like that," Baker said. "Money is enormously important, and is judged rightly or wrongly as evidence as a candidate's viability."
Senior Pawlenty adviser Phil Musser said the haul suggests that donors are impressed with Pawlenty "and his natural ability to connect with people."
"The PAC is off to a solid start, and we look forward to playing a big role in the ideas debate, and in supporting the next generation of Republican leaders," Musser added.
Other Republicans believed to be considering 2012 White House campaigns who also have PACs include former Govs. Mike Huckabee of Arkansas, Sarah Palin of Alaska and Mitt Romney of Massachusetts.
Romney files his PAC's reports on a monthly basis instead of quarterly like the others. Through November, Romney's Free and Strong America PAC had pulled in more than $2.7 million and had about $1.1 million left to use. Palin and Huckabee hadn't filed new reports as of Friday morning.
Future Pawlenty reports could be leaner. He expects to curtail his out-of-state travel during the upcoming legislative session, although political trips are already planned to Birmingham, Ala.; Dallas; New Orleans; St. Charles, Mo., and Washington.
"Obviously, keeping up that pace is not going to be as possible in the near term just because of the time I want to and need to spend at the Capitol," he said.
Even though the PAC operates under federal laws, Pawlenty said he plans to voluntarily abide by state rules barring state candidates from accepting money from lobbyists and special interests with Minnesota ties during the legislative session.