House explosion brings a closer look at drilling method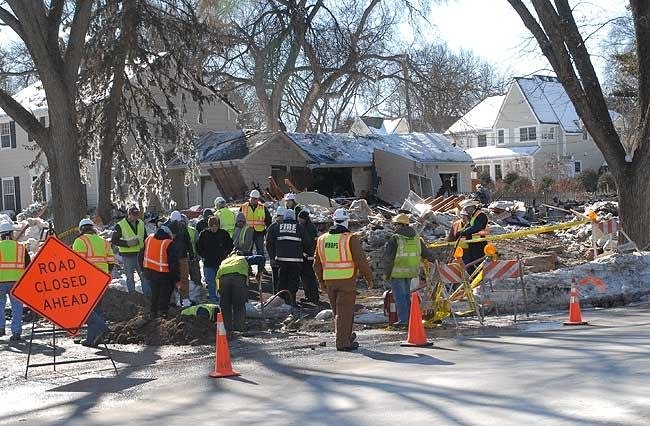 Crews from Centerpoint Energy were digging up Arden Avenue in Edina Wednesday afternoon, trying to figure out what sparked the natural gas explosion that destroyed one home and damaged another.
The house was on 50th St. just a few blocks west of France Ave. It's the second explosion this winter related to underground drilling, now a common excavation method.
A crew installing a telephone cable apparently struck a gas main in the street Tuesday afternoon. Authorities think the gas, which was trapped underground by a layer of frost, slowly seeped through the neighborhood and into nearby basements.
Elizabeth Skalnek, the chief engineer of the state's Office of Pipeline Safety, said it could have been worse if the gas had ignited other homes as well.
The accident was actually the first of two gas leaks that occurred on the same day. A crew struck another underground gas line in Minneapolis. Authorities closed Lyndale Ave. at 43rd St. for several hours Wednesday morning while that leak was repaired. No other damage was reported.
The Edina blast, and another earlier this month in St. Paul, highlight the risks -- and the advantages -- of what has become one of the most common construction techniques in the country.
It's known as horizontal directional drilling. Crews use small tractors with hydraulic rams to shove steel pipe through the ground -- instead of digging down from above with a shovel. It's a method cheaper and faster than other tactics.
A wedge on the front helps them steer their way through the ground. To locate the pipe, crews use a SONDE -- basically a small radio transmitter -- that they can locate from above ground with a handheld radio detector.
"It gives you your direction, your depth. Very very accurate," said Jim Sunderland, one of the owners of T-RAY Construction in Ham Lake. "All we do is we drill out, we hook onto our product and pull it back."
Sunderland's company has about a half dozen of these drills, and one of them was installing a cable at an apartment building in Champlin Wednesday afternoon.
The workers knew exactly where they were drilling. T-RAY crews drill through about 60 miles of earth a year to install underground pipe and wire.
But as good as the technology is, there's still no way to see what else is underground that might be in the way of their drilling. Sunderland's crew had to thread their way through gas lines, telephone wires, TV cable, sewer connections and even a sprinkler system.
Most of those other underground lines had been marked out by the companies that installed them in the first place. But Sunderland says the old-fashioned method is still the best.
He has crews dig down by hand until they unearth everything they can find -- from gas lines to invisible pet fences -- so they can see their drill passing by and not hit it.
Standing at the scene of the Edina explosion, Elizabeth Skalnek, the state pipeline engineer, said investigators are trying to find out if the telephone cable installers actually dug down and saw the gas line, which they were supposed to bypass with the drill.
"Absolutely it needs to happen, and we're investigating as to whether or not it happened here," she said.
That didn't happen in St. Paul, where a home blew up on Feb. 1. Back in the 1990s, a drilling crew ran a gas line from the street to the house. The gas line passed right through a sewer pipe.
More than a decade after it was installed, a drain cleaner hit the line, letting gas rush through the sewer into the basement. The house was leveled by the explosion.
Experts say there may be several such collisions -- called crossbores -- in every mile of underground pipe installation. Inspectors have found them in pipes leading to hospitals and schools.
But industry experts say the danger is a trade-off that gas and water and phone and cable customers want. The alternative is to dig a trench for every buried utility.
But backhoes are even more likely to hit buried pipe and wire, since they dig up so much more dirt. They also leave open holes that people can fall into, or they can cave in.
Digging trenches also means closing roads and tearing up lawns, sidewalks and driveways. Winter excavation can turn a week-long job into a month-long job, and leave behind a mess that can't be cleaned up until summer.
Mark Bruce is president of the Crossbore Safety Association, a trade group that encourages safe drilling -- known as trenchless installation. He owns an Indiana pipe manufacturer.
"The world and the consumer, the ratepayers, are all benefitting by these trenchless technologies by having minimal disruptions, and very little disturbance to the surface," said Bruce.
Crews have opened holes in the street to fix the leak that cause the Edina explosion. Xcel Energy has also outlined a plan to check on some of its older trenches in St. Paul. State officials say they're also considering whether underground drilling needs better regulation.
Gallery
1 of 2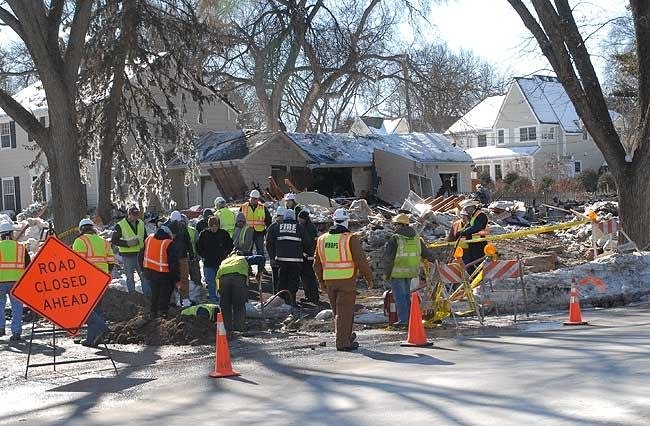 2 of 2
Your support matters.
You make MPR News possible. Individual donations are behind the clarity in coverage from our reporters across the state, stories that connect us, and conversations that provide perspectives. Help ensure MPR remains a resource that brings Minnesotans together.